Summer Skin SOS
There's no greater feeling than slipping into a summer dress and feeling fresh and revitalised from a great day at the beach. Unless, of course, you're feeling self-conscious about your skin and would rather be rugged up inside with the air-con blasting! Get gorgeous summer skin with these easy tips.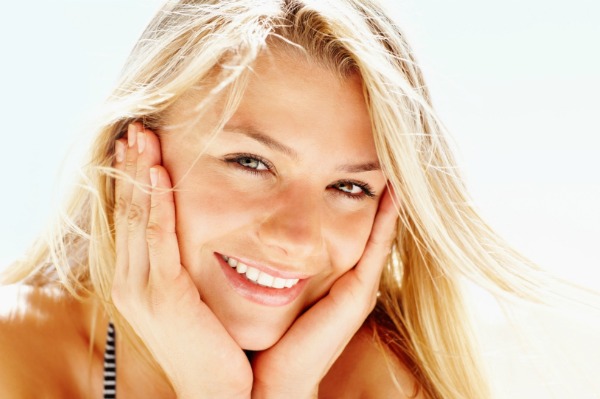 Exfoliate
You can't overestimate the importance of exfoliating to get smooth, glowing skin, especially if you want to use a fake tan. Your body sheds billions of skin cells each day and if you don't scrub these away, they'll just sit on the top of your skin and make it look dry and lacklustre. There are plenty of different ways to exfoliate, like using a brush, gloves or scrub. Make sure you indulge in a rich moisturiser post-exfoliation and you'll be the epitome of health, inside and out!
Moisturise
We're addicted to it in winter, but sometimes the sticky summer months mean we forget about the all-important beauty buster, moisturiser!
Protect your skin with a generous application of moisturiser each day and make it a part of your everyday beauty routine. Apply plenty to your face, hands and body, paying particular attention to the rough bits like your elbows and knees. Daily moisturising will not only keep your skin looking and feeling soft and supple, but it will also help minimise the appearance of wrinkles. Move the rich winter lotion to the back of the shelf and opt for a lightweight moisturiser that's easily absorbed into the skin.
Sleep
It's the one thing we all love to do but somehow can never get enough. Not only will you feel a whole lot better after getting some serious ZZZs, but your skin will thank you for it too. Bye-bye bags under the eyes and dull skin, hello glowing complexion!
Hydrate
Do you know why babies have such gorgeously soft skin? It's because their bodies are just under 80 percent water. Get dewy skin by drinking plenty of water in the summer months — that means eight to 12 glasses a day. This will also help flush toxins from your body. Caffeine and alcohol are massive dehydrators, so avoid these if you can... or at least enjoy your summer mojitos sparingly!
Go naturale
One of the major bonuses of summer makeup is that it's easy, simple and natural, meaning you can store those heavy foundations and powders away and give your pores a well-earned break. A little moisturiser and sunscreen is all you need before hitting the beach for a fuss-free look. Also try natural beauty treatments like splashing cucumber water or rose water on your face for a nourishing skin refresher.
Exercise
It's no secret your body loves exercise, so try to schedule in some fitness sessions during the week. Instead of meeting up for coffee on the weekend, why not invite your friends to go on a long beach walk followed by a juice stop? Try to work some incidental exercise into each day too, like taking the stairs instead of the lift, or getting off your bus two stops early and walking the rest of the way. Exercise is also great for our mental health and a fantastic stress-reliever.
Eat well
Your skin hates processed foods, sugar and artificial colours and flavours, but it loves fresh fruit and veggies. Now, what are you going to have for lunch today?
Protect your skin
It's been said time and time again, but protecting your skin from the harsh Aussie sun is one of the best ways to keep it in tip-top condition. Sure, we all love a bit of Vitamin D, but you can still enjoy the great outdoors with some quality sunscreen and a hat. Sun damage is definitely not going to help you get a gorgeous glow!
MORE for the summer
Best summer looks for your body type
Summer desserts
Seasonal summer plants