Your Best Hair Ever
Fringes, feathering, foils -- with so many hairstyle options to choose from, it can be difficult to know where to start. Read our pro tips below to match your face shape to the perfect hairstyle for you.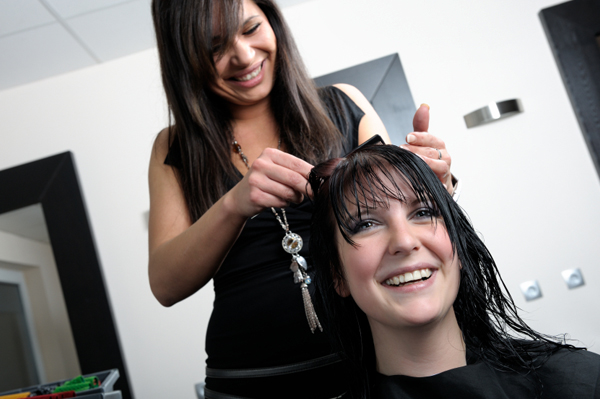 What's your face shape?
Round: Your face is a perfect circle and its width is equal to its length.
Oval: Your face is symmetrical and forms a perfect oval. Your forehead and jaw are the same width.
Heart: Your wider forehead and cheekbones taper down to a narrow jaw.
Triangle: Your forehead and cheekbones are narrow and widen to a broad jaw.
Square: Your features are sharp and angular. You have a strong jaw and broad forehead.
Oblong: Your face is long and narrow.
What's the best hairstyle for you?
Round
Gentles waves help lengthen a round face.
Longer hairstyles, especially when teamed with layers, work best.
Try to add height and volume to the crown of your head to help lengthen your shape.
Avoid a blunt fringe as it can shorten your face -- go for a side-swept fringe instead.
Oval
Most hairstyles tend to suit your face shape -- lucky you!
You have the freedom to go long, short, layered or blunt.
It's wise to opt for styles that are brushed off your face to show off your beautiful face shape.
Heart
Opt for any hairstyles that stop at about the chin or shoulder.
Avoid blunt fringes.
Opt for a side-swept fringe.
Triangle
Shorter styles seem to suit your face shape best.
Aim for a style with plenty of feathered layering.
Avoid blunt styles, especially bobs that finish at your jaw.
Square
Go for soft, wispy styles that will soften your features.
Fringes that sweep across your face are great, but avoid blunt versions.
Medium-length hair looks especially great on a square face shape.
Rounder styles with layering work to draw attention away from a prominent jawline.
Avoid blunt hairstyles, especially any that stop at the chin (e.g. a bob) as they'll draw attention to your jaw and chin area.
Oblong
Go for short to medium-length styles.
Make your face look rounder by choosing a style with plenty of layering and volume at the sides.
Cuts that finish at about your chin or shoulder look great, especially if they flick out at the ends.
Avoid any extra volume at the crown of your head, as this will make your face appear even longer.
Your face shape benefits from some sort of fringing; avoid a middle part if you can.
Waves and curls look gorgeous, so invest in a curling wand and some hairspray for nights out.
More hair advice