Mood-Boosters
You've had a stressful day and all you can think about is climbing into bed, sinking into your pillow and dreaming for the next eight hours. All your partner can think about is bed too, but for a very different reason... If you're not in the mood (but you want to be) try these four easy tips to boost that libido!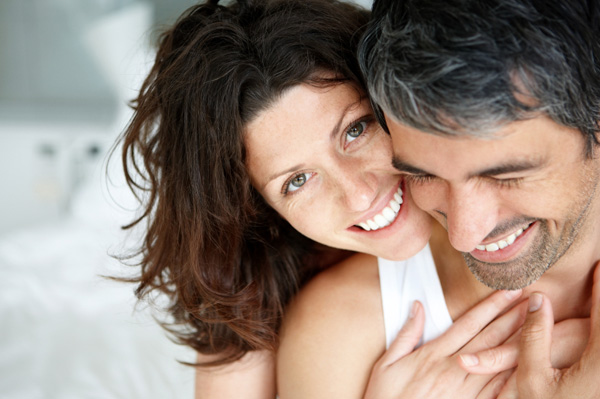 De-stress
One of the greatest mood-killers is stressing about all the things you have to fit into your day tomorrow before you've even gotten over your exhaustion from today. Stress is a serious dampener and sadly most of us are stressed about something: whether it's that work meeting in the morning or a child's well-being. But the good news is, sharing the workload with your partner is a sure-fire way to take the stress factor down a notch -- plus now you have extra persuasion power! If he knows all he has to do to get you in the sack is finish the washing up, you'll no doubt have a sparkling kitchen in seconds. Getting all your tasks done for the day is certainly a good way to clear your mind for other active pursuits... It's also important to have wind-down time after your busy day, so set aside even half an hour of "you time" after you put the kids to bed. Take a bath, read a book or go for a stroll around the block.
Get fit
Think about the last time you really felt in the mood -- you were probably feeling pretty confident and sexy, right? Eating a well-balanced diet and exercising regularly will help you to feel body proud and beautiful, which will lead to a positive headspace conducive to sex. Even without a change in body size or shape, simply boosting your fitness levels and working out will help you lift your self-esteem. Confidence is a major component to feeling in the mood for sex, so try taking an extra moment to apply a slick of lippie or enjoy a quick shower if you think it might help. Exercise also helps boost those feel-good endorphins, which will help put you in the mood for sex. And what about hitting the gym or going for a run with your partner? Well, getting hot and sweaty with your mate can only be a good thing...
Eat!
Ladies, we just discovered a great new excuse to get your nightly chocolate fix! Munch on aphrodisiacs like chocolate-covered strawberries, almonds or slather some honey on a piece of toast to help you get in the mood. (You can hardly feel guilty if it's "helping" you, now can you?) Incorporate winners like oysters, salmon, asparagus or basil into your dinner and wait for the effect. At the very least, it'll taste great!
Don't underestimate foreplay
You know what works for you and what doesn't, so establish some pre-sex seduction rituals that will help get you in the mood. If certain scents turn you on, light some incense or take a bath with aromatherapy oils. Take time to pamper yourself in the bath or shower, shave your legs, moisturise and pop on a soft slip or dress. Don't underestimate the power of touch; it helps us to feel wanted and may just be the trick to put you in the mood. You could even help drive your desire by establishing foreplay rules like using hands-only or no touching below the belt. Good luck!
more Sex and dating advice
Health benefits of sex
Major sex don'ts
4 New ideas to change your sex routine