DIY Beauty At Home
We all love a good manicure and pedicure session at the salon, but there are only so many professional treatments your wallet is willing to handle. Save some cash, invite the girls over and follow our step-by-step guide to enjoy a DIY session at home!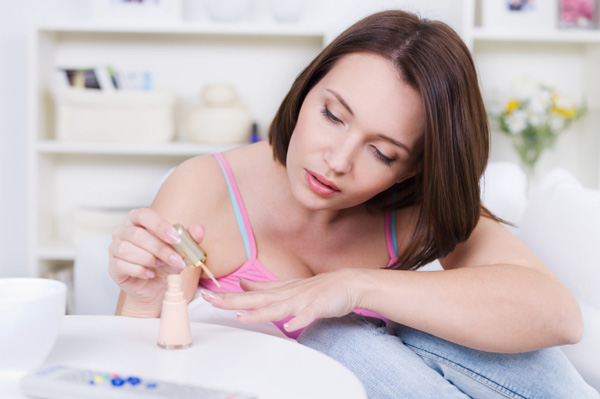 DIY manicure
Set up a space for your home salon -- think scented candles, relaxing music and maybe a cup of tea or glass of champagne to complete the ultimate indulgence package. Prepare the area with plenty of towels and protect that carpet from polish spills!
Wash your hands thoroughly and remove your old nail polish with gentle remover and wipes or pads. Rinse.
Trim your nails with nail scissors to keep them looking fresh. Grab a nail file and shape your nails as you wish. You can create a smooth curve or keep them straight with subtle rounded edges. Start at the edges and move towards the top, aiming to file in one direction rather than back and forth, as this can damage the nail.
Now it's time to work on your cuticles. Soak your hands in warm soapy water for a few moments to soften them, then pat them dry with a clean hand towel and massage in a nourishing cuticle cream. You can also use an orange wood stick to push back the cuticles, but be gentle.
Moisturise both hands with a rich cream and let dry.
Now it's time to get painting! Choose your favourite shade of nail polish and set aside. Start with a base coat, swiping the brush across the nail from back to front, and one side to the other, in three even strokes. Next, apply a coat of your chosen colour, let dry, then apply a second coat. Finally, add a top coat to protect your manicure and help it to last longer.
DIY pedicure
As you did for your manicure, create a relaxing space for your home spa treatment. A spot outside in the sun with a footbath and towels, or a perch in the bathroom is perfect. Add a few candles and music, and you're good to go!
Remove any traces of old nail polish with remover product and wipes or pads.
Next, it's time to trim those nails, but try not to clip them too short as this can lead to ingrown nails and infections. Instead, cut them straight across with nail scissors. Rub in a little cuticle oil to soften.
Fill a footbath, a plastic container or your bath with warm, salty water and let your feet soak for five to 10 minutes. (Time to top up the wine?!)
Next, exfoliate your tootsies with a foot scrub, then rinse. Grab a foot buffer or pumice stone and work to soften any particularly rough or hard sections of your feet.
Dry well with a clean towel and lather your feet in a hydrating moisturiser, paying special attention to rough patches, like your heels. This is the perfect time to indulge in a little foot massage -- or even better, convince your hubby or fellow DIY-ers to do it for you!
Next, apply a base coat of polish, then your chosen shade of nail polish and finally a top coat, allowing each coat to dry before applying the next. You can use toe separators if you wish, but make sure you keep stationary until the polish dries -- cue glass of wine, good book or great conversation!
For More beauty tips:
Celebrities' beauty secrets
10 Fashion and beauty bloggers we love
Beauty tips for brides: Countdown to the "I dos"