Get Active
Single and looking for love? Why not kill two birds with one stone by getting out there and enjoying some fresh air and exercise, while also meeting some great new people and increasing your chances of meeting Mr. Right? From sailing clubs to sport teams to trekking groups, these fun ideas will put you on the path to fitness -- and love!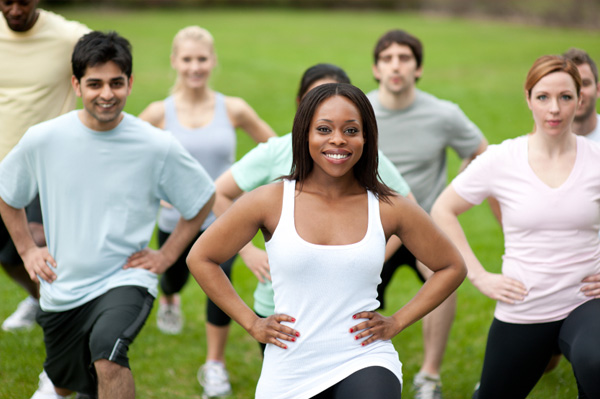 They say you always meet "the one" when you least expect it... So instead of trawling the bars in search of love, why not take the time to enjoy your single life and take up a bunch of new hobbies to not only improve yourself and learn new skills, but also to meet some great new people?
The more people you meet, friends you make and social circles you start mixing in, the more likely you are to meet someone you really connect with. Team sports are a great way to socialise with people you may not normally come into contact with. Think about your strengths and interests, and choose a style of exercise you love. Whether you prefer gentle activity like yoga or pilates, something a bit more rousing like salsa dancing, or a good workout like touch football or a gym class, ensure that you choose a form of exercise that you enjoy so you're sure to keep coming back every week. Read on for some ideas...
Mixed team sports
Low-contact sports like netball, touch football, soccer, hockey, ultimate frisbee, volleyball and basketball are all great ways to mingle with new crowds. Many sports operate comps for mixed gender teams of adults in a low-pressure, social environment. Weekly comps will lead to finals at the end of the season, giving you plenty of opportunity to commiserate or celebrate with your teammates.
Jogging
Running clubs operate across the country for all levels of fitness. From beginners to more serious, experienced joggers, choose one that's right for you and work out with a bunch of fitness-focused new friends each week. Many running clubs meet up several times a week, offering you a chance to improve your running times as well as explore new parts of your local neighbourhood.
Yoga/pilates
If you prefer more gentle forms of exercise, classes like yoga or pilates might be ideal for you. With their recent rise in popularity, you'll find many men and women of all ages in the one class. Whether it's low-impact Iyengar, fast-moving Ashtanga or sweaty Bikram, make sure you choose a yoga style that you enjoy. Pilates is also hugely popular with both genders, as it facilitates core strength and offers a great body workout.
Dancing
There are many different forms of dancing to choose from. While you may prefer to join a ballet or contemporary dance class for your own interests, signing up to a fun partner class like ballroom, tango or salsa is a great way to meet new people (read: guys!). It could also offer you the perfect chance to invite a crush or new boyfriend along to hang out in a fun, low-key environment.
Gym classes
Pop by your local gym to check out their class timetable and equipment. From aerobics to cycling to circuit training, you'll find many different class options to choose from, or simply follow your own workout on their machines.
Outdoor adventure groups
If you prefer to exercise in the great outdoors, consider joining an adventure group. Activities like trekking, mountaineering, abseiling, rock climbing, sailing and rowing are all great ways to meet adventurous and fun guys and girls.
For More dating tips
Unhealthy love & dating habits to break this year
4 tips to get in the mood
An office relationship: Is it a good idea?