Date-Night Ideas
Heading out on a first date? Don't stress, we've got you covered. From ten-pin bowling to fishing, here are a bunch of creative and fun date ideas to break the ice.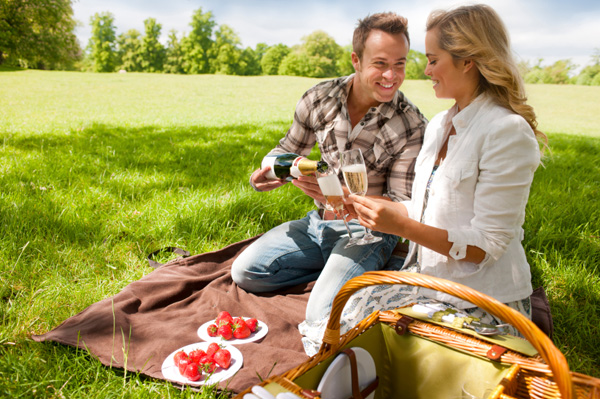 So you've spoken to the man in question and scored a first date... Now what? Maybe you're recently single, maybe it's been a while since you dated or maybe you're just tired of the same old dinner-and-drinks routine. Well, sounds like it might be time to shake the date routine up! No longer is date-planning just the man's domain, us ladies are more than capable of taking the lead and organising a killer night out... Think about what kind of things the guy is into and plan the date according to his interests. Consider these quirky ideas...
Ten-pin bowling
This is the perfect activity to take the pressure off the conversation while still spending time together. It's especially fun if you're both at more or less the same playing level. Enjoy a drink before the game and a meal after, and who knows, you might even be motivated to join a local team!
Go to a gig
Whether you're a big music fan, he is, or both of you are, going to see a band play live is a guaranteed great night out. Make sure the band plays the kind of music he's into, especially if it's a first date, so you can both relax and have some fun.
Picnic in the park
An oldie but a goodie! Whether you want to make it a very casual brunch or lunch, or make it a little more romantic at dusk with wine and cheese, a picnic in a scenic spot will give you both the chance to unwind and let the conversation dominate.
Bush-walking/fishing/bike riding
If he's an outdoorsy kind of guy, he'll love a date in the fresh air. Whether you whisk him off to a local national park for a trek, find a cosy spot by the river for some fishing, or both saddle up and take a long ride (with a well-earned meal at the finish line, of course), first dates in the great outdoors mean you can kill two birds with one stone. You get some exercise and enjoying your date's company at the same time!
Beach day
Hire kayaks, go boating or take a dip underwater with the snorkels and enjoy a first date at one of our beautiful beaches. This is a great way to take the pressure off in every possible way -- replace the cocktail dress with shorts, the make-up with sunscreen and the straightened locks with casual beachy hair. Too easy!
Watch a sports game
If he's a sports man, you're going to earn serious points for taking him to a game to cheer on his team. Maybe skip the half-time greasefest and head out for dinner afterwards to get to know each other without the screaming sports fans.
Art exhibition/museum
Check out what's happening in your town or city and take your date to a new art or museum exhibition. Not only will you tick it off your to-do list but you'll also be able to take advantage of the pieces to get the conversation kicking along.
More dating advice
Sports for single women
Old fashion love tips from your grandma
First dates dos and don'ts