Keep your skin healthy and youthful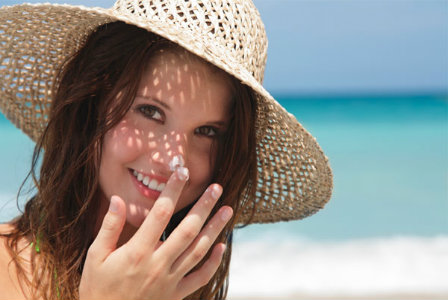 Don't want to end up looking like a shrivelled old prune in your old age? Then it's crucial to start taking care of your skin now. SheKnows has found the top three tips to have better looking skin.
How to Prevent premature ageing
1
Sunscreen and dark chocolate
Slathering yourself in tanning oil and roasting yourself like a rotisserie chicken in the sun is the fastest way to age your skin. 20 minutes in the sunshine without sunscreen is plenty to get your daily vitamin D, however, try to avoid doing this between the hours of 10 a.m. and 4 p.m. when the sun is at its hottest.
Don't kid yourself into thinking sun beds are any better. If you insist on having a tan there are alternatives like self-tanning sprays, gels, lotions and bronzing powders.
You can also get sunburnt if you are doing a lot of driving. If you can't afford to get your car windows tinted to protect you from UV rays, make sure you wear a long sleeve shirt and driving gloves.
Good news for chocoholics: Dark chocolate contains flavonoids which may increase the skin's capability to safeguard against some types of skin damage, including sunburn. It can also assist in stopping your skin from becoming dehydrated, increasing oxygen saturation and boosting blood flow.
Emotional upheavals, long hours at work, a screaming boss or your partner sitting on his bum while you're run ragged can cause stress. Stress can age you by at least five years according to New York City dermatologist and psychiatrist Amy Wechsler, MD. Continuous worry causes inflammation that breaks down collagen and can trigger redness and acne flare-ups. Eating antioxidant-rich foods like blueberries, oranges, and asparagus can help reduce inflammation. Other things which may help are:
Get regular exercise -- consider a yoga class.
Reduce your intake of sugar, caffeine and alcohol.
Eat a healthy diet and supplement with a multivitamin.
Take a moment each day for yourself. Sit somewhere quiet and breathe deeply.
The simple act of smiling can help reduce stress. Think of your happy place, it might be playing with puppies or sitting poolside at a Surfers Paradise resort.
Have a cuddle with your pets.
3
Invest in a good hydrating moisturiser
We like Miracle Skin Perfector, Australia's first BB cream by Garnier. When it comes to your face, everyone has specific needs, inlcuding moisturising, evening out the complexion, correcting blemishes, having a healthy glow and protecting skin from UV damage. This product hydrates for 24 hours, evens tone, helps reduce annoying spots and contains SPF 15. It's five products all rolled into one and just takes a few minutes to apply. You'll find it at all leading supermarkets and pharmacies.
More skin care tips

Easy (and unexpected!) ways to prevent sun-damaged skin
Quickie skin solutions for new mums
Skin transitions: What to expect as you age