Get amazing nails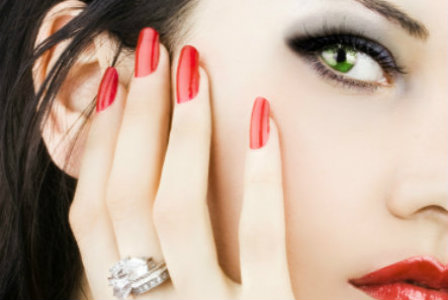 If you're planning on going all "50 Shades of Grey" and want to claw your nails down your man's back in the heat of passion, you need strong, healthy nails. Check out this SheKnows list of must-have products for perfect, scratch-worthy nails.
Must-have products
For killer nails

Cuticle Gel Remover from Revitanail®
Roughly pushed-back cuticles can lead to infection. Cuticle Gel Remover from Revitanail (Myer, David Jones, Priceline, Priceline pharmacies and leading pharmacies nationally, $14) will give you professional results at home. The combination of green tea and aloe gel moisturises and conditions to gently soften and remove excess cuticles.
Dr Lewinns Revitanail® Hand and Nail Cream
Chlorine and air conditioning can make nails dry and brittle. A good hand and nail cream like Dr Lewinns Revitanail® Hand and Nail Cream (Priceline, $20) can help prevent this. It provides hydration to skin and nails after your hands have been immersed in water and detergents or chemicals.
Base coat
No it's not another marketing gimmick to sucker you into spending more money on nail products. Base coat (Priceline, $10) will prevent dark and vibrant nail polish colours from staining, make your polish glide on and also helps prevent polish from chipping or peeling.
Nourishing oil
Nourishing oil (chemistwarehouse.com.au, $13) uses soothing oils and herbal extracts to moisturise and nourish cuticles and nails. Vitamins A and E and strong antioxidants keep your nails strong and promote growth. It also has UV filters to protect your nails from sun damage.
Revitanail® Nail Strengthener Sensitive Pink
Winner of the 2008 Instyle Best Beauty Buys, Revitanail® Nail Strengthener Sensitive Pink (Priceline, $30) features a toluene and formaldehyde-free, sensitive nail strengthening formula powered with dimethylurea (DMU) that gently hardens the nails without causing them to become brittle. It also contains pearl and diamond powders for nourishment and additional strength.
Tweezerman Perfect Power Nail Clipper
Ergonomic and durable, the Tweezerman nail clippers (Getprice.com.au, $21) allow for careful control and clipping power with strong, stainless steel blades that can clip even the gnarliest nails. They come with a built-in colourful case that stores gross clippings for easy clean-up.
Nail polish remover
Choose nail polish remover (Priceline, $7) in an acetone-free formula enriched with nourishing and moisturising vitamin B5 and pearl powder that removes polish without drying nails.
Glass nail files
Glass nail files prevent chipping and splitting of the nails and promote healthier nail growth. With the unique surface of the glass files (uniqueglassfiles.com.au, from $12-$26), not as much pressure is required to remove your nails. These files are made with toughened glass, are super hygienic and they have an unlimited lifespan.
Nail dryer
This professional electronic nail dryer (tmart.com, $8) offers a convenient way to dry nail polish quickly. It is slim and compact and doesn't occupy much space. With a fan, it will dry wet nails quickly. It is cordless, has automatic activation and is suitable for hands and feet.
Revitanail® Nail Lacquers
Revitanail® Nail Lacquers (Myer, David Jones, Priceline, Priceline pharmacies and leading pharmacies nationally, $13) combine the strengthening properties of diamond dust and bamboo silica together with the nourishing qualities of pearl extract. With a flat-stemmed brush for easy application, a fast-drying finish and the brilliance of a diamond shine, your manicure will hold strong, glossy and chip-free for days! To boot, there is a great range of colours to choose from.
Additional information about nails

Nail designs: How to sport neon nail tips
Fuss-free vacation nails
Top 10 ways to get healthy nails