Get shiny, chip-free nails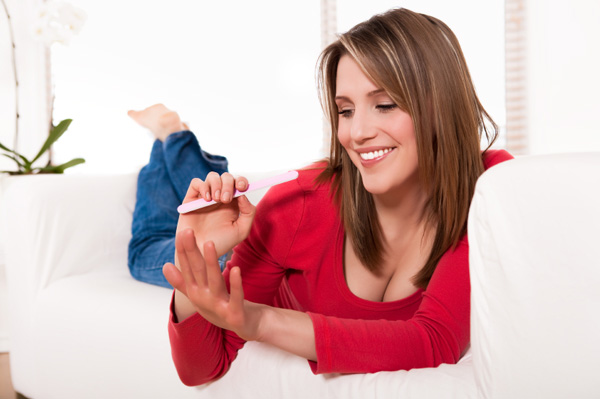 Whether you are heading out to a salon for that relaxing manicure or choosing a DIY manicure at home, there are a few quick steps you can take to ensure your nails are fully prepped and ready for that glossy splash of colour.
Nail prep for a long-lasting manicure
For a great manicure that lasts, simply follow these five helpful nail prep tips.
Remove old polish
Removing old nail polish is the first step to proper nail prep. Use nail polish remover and a cotton pad to gently clean off any old nail colour. Old polish should never be chipped off as this will damage the top of the nail surface.
Prep your cuticles
Proper cuticle prep is essential for a top quality manicure finish. A light application of cuticle oil, such as Revitanail's Cuticle Remover Gel, will help to remove any dead cuticle skin and will moisturise and nourish the nail bed. The flat end of a cuticle stick will help push cuticles back in their place. It is recommended that you never cut cuticles, but only ever push them back gently.
Smooth rough edges
Get your nails into shape with an emery board or a crystal nail file, smoothing off any sharp or jagged edges. Nail polish tends to chip first at the tips of the nails, so ensure nail tips are properly prepped and ready for your chosen coat of colour.
Buff the surface
Keeping nail surfaces smooth is important to create that perfect-looking manicured finish. Nails can get ridges, bumps and nicks in them from everyday wear and tear and buffing the tops of the nails helps to smooth these out and create an even base for polish to be applied. A buffing block works best.
Clean up
A clean nail surface will ensure nail polish goes on smoothly and evenly. Wash your hands in warm soapy water and then dry them thoroughly. A lint-free paper towel with some alcohol solution will help to clean the nail surface of any oil or dirt and will ensure the base coat or first colour coat goes on evenly and smoothly.
Remember that good nail care starts with good hand care. Regular moisturising of hands and cuticles will go a long way to giving you the strong, long, healthy nails that you are aiming for. Once you have followed these few simple steps, your nails will be prepped and ready for that luxurious manicure that you will be proud to show off.
For more nail care tips
DIY manicure and pedicure tips
To shellac or not to shellac?
What your fingernails say about your health