Nourish your skin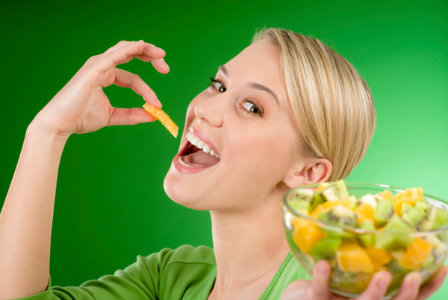 The good news is that vitamins and minerals are great for maintaining healthy, vibrant skin no matter what your age. The great news is that you can get the benefits of vitamins and minerals into your skin and body both from the inside and outside.
Get healthy skin
inside and out
Vitamins for the skin
The best vitamins for the skin include vitamin A, vitamin B-complex, vitamin C and vitamin E. Vitamin A can help with dry, flaking skin as it is necessary for repairing damaged skin cells. Skin products enriched with retinols are packed with vitamin A, and are a great anti-ageing treatment. Garnier's UltraLift Pro-Retinol Day Cream is a great product enriched with retinol and is specifically designed to target environmental damage and prevent premature ageing.
"Fresh fruits and vegetables are a simple way to get vitamin A "
Fresh fruits and vegetables are a simple way to get vitamin A into your body and to get healthy looking skin from the inside out.
Vitamin B-complex helps prevent itchy dermatitis-like skin. It is also useful for preventing acne breakouts. Skin creams with vitamin B-complex help to hydrate the skin and give it a healthy glow. Its anti-inflammatory properties help to soothe irritated skin. Bananas, eggs, grains and nuts are all great sources of vitamin B-complex.
Vitamin C is one of the most important vitamins, and its importance has only fairly recently been recognised. Vitamin C works to protect the skin from free-radicals, protecting collagen and elastin within the skin layers. Vitamin C, whether taken topically or taken internally as a supplement, can have dramatic effects on wrinkles and other signs of ageing. A powerful antioxidant able to protect the skin from environmental damage, vitamin C is found in citrus fruits and vegetables, such as broccoli and cabbage.
Vitamin E is a powerful antioxidant that helps to repair sun-damaged skin and protects skin from further damage. It is also great for dealing with wrinkles. Many creams are enriched with vitamin E. Nuts and avocados are the best natural source of vitamin E.
Minerals for the skin
There are numerous minerals that have been found to be beneficial for maintaining healthy skin. These include selenium, zinc and copper.
Selenium is beneficial for protecting skin against the harmful effects of the sun. As MedicineNet.com states, "Scientists believe this mineral plays a key role in skin cancer prevention." Selenium is available as a topical cream, as a supplement, and naturally occurs in seafood, eggs, garlic and wholegrains.
"Zinc is especially beneficial for treatment of acne"
Zinc is especially beneficial for treatment of acne. It helps to moderate the production of oil and also promotes skin healing. Zinc encourages collagen production, reduces pore size and tightens skin to give a smooth complexion. Beef, pork, chicken, turkey and salmon are all great sources of zinc. According to the Mayo Clinic, "Copper peptides enhance wound healing. They also stimulate production of collagen and may enhance the action of antioxidants." Topical creams enriched with copper are popular with those looking to maintain elasticity and firmness of the skin.
No matter what your age, skin type or skin condition, there are a few important vitamins and minerals that have been proven to protect skin from environmental damage, promote new cell growth, increase production of collagen and elastin and maintain skin hydration. When taken topically and orally, you can help to attain and maintain healthy, vibrant skin from the inside and outside.
More tips on skin health
Top vitamins and minerals women need
Best foods for your skin and complexion
Recipes to boost your vitamin C intake