Get healthy, beautiful nails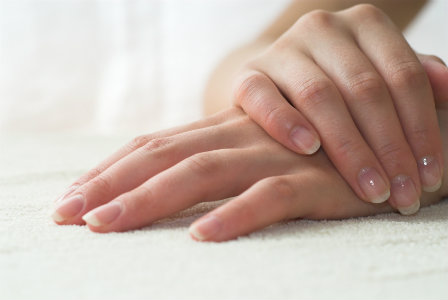 Do you have gnarled, nubby nails but wish you had nails that make people say "wow"? Then these SheKnows top 10 ways to get healthy nails are for you.
Yeah, yeah! You've heard all the lectures about how you'll end up with lung cancer and die, but did you know tar and nicotine found in cigarettes stain the fingernails yellow? Ewww! It also causes nail fungus infections by depriving the fingernail area of proper oxygen and nutrients and reducing its natural defense against fungi. A nail fungus eats away at the fingernail, causing it to break, thicken or even fall off.
Nails carry oodles of bacteria so if you're prone to wasting away the hours nibbling on your nails, you are more susceptible to picking up colds, influenza and paronychia (ouch!). Keep your hands out of your mouth.
Fingernails are not meant to double as a Swiss army knife that you carry with you to scratch dirty marks off benches, remove staples, lever nails and thumb tacks or any other odd jobs you find them useful for. Putting excess strain on your nails will weaken them and cause the nail bed to crack.
You wouldn't wash your face with dishwashing detergent, so why subject your fingernails to the same treatment? Exposure to chemicals can cause nails to become brittle, peel and break. Also try to avoid harsh soaps and dry your hands properly after washing as wet hands make you susceptible to hangnails.
Chlorine and air conditioning can make nails dry and brittle. A good hand and nail cream can help prevent this. To enhance the benefits, put on moisturiser before bed and then sleep in a pair of gloves. The gloves will help hold the moisture in.
6
Careful with your cuticles
Biting or cutting cuticles can cause infection. Invest in a cuticle gel remover and a cuticle stick.
7
Use a nail strengthener
Voted best beauty buy for four years in a row, Revitanail nail strengther promotes healthy, strong nails. It prevents nails from becoming dehydrated, it eliminates peeling, flaking and chipping and it helps restore nails damaged from nail extensions.
Tropical fruit is where it's at! The Australian climate is perfect for cultivating sweet pineapple, passionfruit, papaya, bananas and Queensland mangoes. You can have a guilt-free pig out knowing that vitamins A, B, C and K will help nourish your nails.
9
Restrict use of polish remover
Nail polish remover can dry out your nails. To avoid this, only use an acetone-free nail polish remover when necessary.
10
Know how to file your nails correctly
To ensure your nails stay strong, only file in one direction. And never file just after you've gotten out of a shower or bath — wet nails break more easily.
More information about nails

Tips to save your hands and nails while traveling
Top 10 products for nail health
Tips for long lasting nail colour