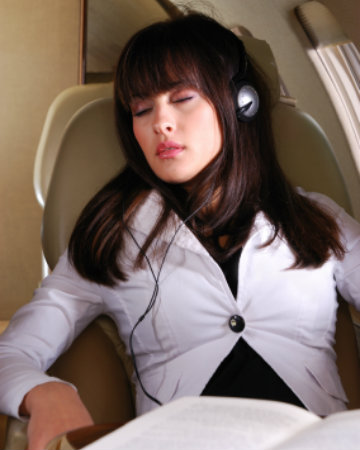 Therapy up in the clouds
To many people, long-haul flights are a beauty disaster, thanks to parched skin, dull complexions and haggard faces. But if you bring your beauty loot on board and take advantage of all that time, you'll arrive looking fresher than when you left.
We've all heard how important it is to lather on the moisturiser to stay hydrated on heavily air-conditioned flights. While that is a great beauty tip that everyone should follow, all that forced downtime when you're flying can be used to actually pamper yourself. Think about it this way: How often do you get seven or more hours of completely uninterrupted time to yourself? For the busy woman, the answer is hardly ever.
Long-haul flights are the perfect opportunity to relax and spoil yourself with some beauty treatments and emerge at your destination looking and feeling refreshed. Here are our top treatment picks for when you're up in the air -- and if you're clever enough, no-one will even notice what you're doing.
Hand and foot treatments
We've all been guilty of putting our hands through beauty hell thanks to habits such as washing our hands in scalding hot water, using chemical dishwashing liquid and exposing them to the sun without any protection. Hands are one of the first parts of our body that show signs of age, which is why it's so important to take care of them and try and reverse the damage from those naughty habits. What better time to give your hands the nourishment they need than on a long-haul flight? Think of the good old Vaseline-in-hand-gloves treatment, and now take it up a notch.
Once you've settled into your seat, lather on a rich hand cream and spend five or 10 minutes rubbing it in so it fully absorbs. Then, take a cuticle cream and massage it into the bottom of every nail. When your hands are feeling a little on the slippery side from all the lotion, pop them into a pair of cotton gloves and don't rinse until you absolutely have to. If you're game, you can do the same with your feet. Put on a rich foot cream, massage it in, and entrap all that moisture with a pair of socks. Sit back, watch a movie, and arrive with the softest hands and feet you've had in a long time.
Eye masks
While wearing a full face mask on a moisture-zapping flight would be the ultimate beauty treatment, let's be realistic: That will only attract weird stares from fellow passengers. If you're a confident girl who really couldn't care less what others think, go for it! Your skin will thank you later. However, if you prefer beauty treatments that are less obvious but guarantee the same results, eye masks are your weapon. On a long-haul flight (particularly an overnight one), there are usually two types of people: those who take the time to sleep, waking up only to eat; and those who are determined to catch up on their movie-watching before they reach their destination.
If you want to pamper yourself on board, put yourself in the first group. But before you recline your seat and cover your eyes, dab on some moisture-rich eye cream or a specially-created eye treatment. After that, you're free to slip on your eye mask -- effectively letting the treatment soak in -- and enjoy your nap. The best part is, the soft, elastic skin around your eyes will be getting a much-needed injection of moisture and nutrients at the same time. Eye creams usually blend in after a few minutes, too, so nipping to the bathroom and taking a walk every now and then won't attract any unwanted attention. It's a win-win!
Hair treatments
Living in the daily grind, many women simply do not have the time to indulge in hair treatments on a regular basis. The problem is, the most effective hair treatments usually need to be "left in" for at least five or 10 minutes, with the best ones requiring an overnight stay. With that in mind, long-haul flights really are a great time to pamper your locks with a leave-in cream or oil-based treatment. While it's easy enough to apply the treatment and brush it through on the plane, it's a good idea to do it before you board -- remember, the more time you give a hair treatment to work its magic, the better your hair will look afterwards!
Most treatments will give your hair that "wet" look, so the best thing to do is to put your hair up in a bun and wash it out once you get to your destination. While hair treatments are a luxurious treat for your hair and perfect to apply for a long-haul flight, keep in mind that they are probably not suitable if you're heading straight to an event or meeting when you arrive.
More beauty tips
When and why should you use an eye cream
5 Secrets to glowing skin
An intro to facials