Top Tots
From Suri's fashion sense to Honor's puffy pink cheeks, we can't get enough of these seven adorable celebrity babies.
These tiny tots literally have it all: flawless genes, doting parents, an army of nannies to keep them company and all of the toys that their celebrity parents can buy...and all before they've even started school. You've got to admit, the lifestyles of rich and famous babies have never looked so good! Here are seven celebrity toddlers we can't enough of.
Mia Hewitt
The daughter of Leighton Hewitt and his soap star wife Rebecca, little Mia is the absolute spitting image of her mum – with Leighton's cheeky dimples thrown in for good measure. The 3-year-old has racked up more frequent flyer miles following her tennis pro dad around the world over the last 36 months, than most of us would dream of in a lifetime!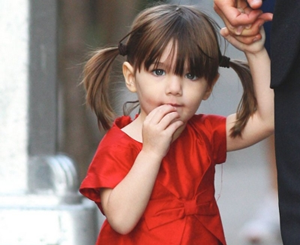 Suri Cruise
She always pops up in lists like this, but that's because 3-year-old Suri Cruise is just too damn cute! Mum Katie Holmes dresses Suri in such trendy threads that there's even a blog, www.suricruisefashion.blogspot.com, dedicated to the toddler's latest looks.
Harlow Madden
It's too early for us to know whether Harlow's baby brother Sparrow will be as cute as she is – mum Nicole Richie only gave birth on September 9, after all – but proud grandad Lionel Richie says they're two peas in a pod. "He looks just like Harlow," Lionel says. "All babies sort of look the same as their siblings, but this is identical."
The Jolie-Pitt brood
Brad Pitt and Angelina Jolie's ever-expanding brood is so lovely that it's hard to pick just one favourite! Eldest boy Maddox, 8, rocks a Mohawk like nobody's business, while Pax, 5, and Zahara, 4, are sweet as can be.
Three-year-old Shiloh and twin babies Knox and Vivienne, 1, meanwhile, have inherited their parents' blonde locks and flawless features. Six kids aged under 8? No wonder the Jolie-Pitts are rumoured to have two full-time nannies...
Sunday Rose Urban
With Nicole Kidman and Keith Urban for parents, 1-year-old Sunday Rose was always going to be blessed in the looks department. Kidman's dad Antony is responsible for the little girl's name, after he read about Australian artist Sidney Nolan's muse, Sunday Reed, and suggested the name to Nic and Keith. Her middle name is a thoughtful nod to Urban's grandma, Rose.
Nahla Aubry
Oscar-winning actress Halle Berry and boyfriend Gabriel Aubry have produced one of Hollywood's most beautiful children in 18-month old Nahla, which means "honeybee" in Arabic. Berry is keen to put her good genes to work, recently revealing, "I'd like Nahla to have a sibling in 2009."
Honor Warren
Jessica Alba fans were so keen to see what little Honor Marie looked like that OK! magazine was willing to pay a reported US$1.5 million to secure the first pics! Now 15 months old, the sweet toddler is snapped by the paparazzi every other day when out and about running errands with mum.
More articles
Angeline Jolie receives death threats
10 best star couples
Ashton Kutcher bites back at his hacker