First Live Performances On Monday'S Episode
The X Factor Australia judges perform live on Monday's episode. The show marked the first time the Top 12 performed live in the 2011 season of The X Factor Australia.
A SONG AND A DANCE
It's probably tough hearing criticism from people when they don't have to walk in your shoes. But The X Factor Australia judges ate their words and took to the stage themselves on Monday's episode to show they go talent (err, wrong show).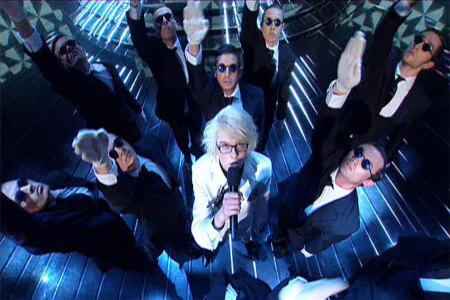 In the first night of live performances, all four judges -- even Mel B, who recently gave birth -- belted the Spice Girl-inspired "Who Do You Think You Are" together. Beforehand , Natalie Bassingthwaighte, Guy Sebastian and Ronan Keating all sang their own hits, with each judge coming out to join the other in their song before starting their own. Guy Sebastian opened on the piano with "Who's That Girl," followed by Natalie Bassingthwaighte's "Someday Soon," which Guy Sebastian joined her on in the end. Ronan Keating sang "Lovin' Each Day" and Mel B took the stage last.
CONTESTANTS SHINE
The actual Top 12 weren't too bad in their first live performances either, if judge and audience comments are to be believed. Fresh off their home visits and meetings with guest judges, several of the acts, like Three Wishez, who sang Lady Gaga's "Telephone," and Reece Mastin, who sang "Closer To The Edge" by 30 Seconds To Mars, actually trended on Twitter worldwide.
Other performances included Declan Sykes' "Uprising" by Muse, Johnny Ruffo's "Moves Like Jagger" by Maroon 5, Christina Parie singing "Since You've Been Gone" by Kelly Clarkson and Audio Vixen doing Coldplay's "Viva la Vida."
Image courtesy Yahoo!7
More articles:
Home visits start on The X Factor Australia
Beyonce on The X Factor Australia