Is The Tiniest Irwin Like Dad And Sis?
Steve Irwin's son will get cartoon series next year. Robert Irwin is filming a wildlife series. Bindi Irwin had a TV series when her father Steve Irwin died in 2006.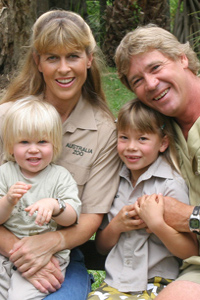 THE LITTLEST CROCODILE HUNTER
His sister swiftly followed in her dad's footsteps after his untimely death, becoming a mini-star for her love of animals and performing.
Steve Irwin's son is now planning to walk along a similar celebrity path similar with reports of a pending television series for Robert Irwin, 7. The show will reportedly be an untitled cartoon about wildlife for which Robert Irwin will speak as himself. The series will start next year.
Bindi Sue Irwin, 13, appeared as a toddler on her dad's TV show, then began her own series called Bindi the Jungle Girl before Steve Irwin's death. The show was aired on Discovery Kids. She has also made her own exercise tape and recorded a hip-hop album. She has also served as Tourism Ambassador of Australia. Bindi Irwin also won a daytime Emmy in 2008.
FIVE YEARS SINCE STEVE IRWIN'S DEATH
Conservationist and wildlife expert Steve Irwin starred in The Crocodile Hunter, a show that he co-hosted with wife Terri and that often featured his children. He and his wife also operated the Australia Zoo in Queensland. Steve Irwin was killed five years ago last month when a stingray hit him in the chest as he dove in the Great Barrier Reef while filming for his own series, Ocean's Deadliest. He was 44.
Image courtesy SteveIrwinDay.org
More articles:
The Crodile Hunter star killed by a stingray
Bindi and Robert Irwin go to High School Musical 3