Hungry For The Games
The entertainment world is buzzing with excitement over The Hunger Games. If you missed the books, find out all the essential deets on the stars and the storyline before the film hits cinemas on March 22.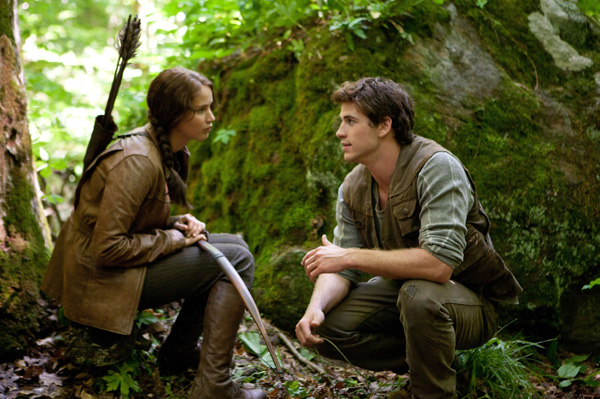 Pssst, have you heard the news? That book series that stole your friends' free time and kept your boyfriend up all night ruffling the pages is about to hit Aussie cinemas on March 22. But before you turn down the offer of a movie date, catch up on all the essential info with our essential Hunger Games cheat sheet.
The books
Written by American author Suzanne Collins, The Hunger Games trilogy (The Hunger Games, Catching Fire and The Mockingjay) has captured imaginations around the globe. And with news that the book has been adapted into a film, sales of the series have skyrocketed even further. In fact, Scholastic Australia has reportedly announced that more than 500,000 copies of the trilogy have been sold in our fair country. Now who said people didn't read anymore?!
The film
Genre: Action, drama, sci-fi
Director: Gary Ross
Writers: Novel by Suzanne Collins; screenplay by Gary Ross, Suzanne Collins and Billy Ray
Stars: Jennifer Lawrence, Josh Hutcherson, Liam Hemsworth and Woody Harrelson
The storyline
The Hunger Games is set in the future in Panem, what was once North America. Each year, the evil Capitol forces each of its 12 districts to send a boy and a girl ("tributes") to fight to the death on live TV. With all citizens forced to watch, the games are a way for the government to keep real fear alive in its people. The random lottery sees 24 young teenagers sent off to fight in a quest to literally eliminate their opponents.
When Primrose Everdeen is selected to fight for District 12 in the 74th Annual Hunger Games, her older sister Katniss volunteers to take her place. Katniss and her male partner Peeta Mellark have to compete against far stronger, bigger players who have trained for the games their whole lives.
The characters
Katniss Everdeen: Jennifer Lawrence
Katniss's dad died when she was young and she was left to look after her mum and younger sister. She provides for them by hunting illegally outside the district fence.
Primrose Everdeen: Willow Shields
Primrose is the younger sister of Katniss and is a quiet, gentle 12-year-old. She's adored and protected by her fellow residents in District 12.
Gale Hawthorne: Liam Hemsworth
Gale is Katniss's best friend. They became close after both losing their fathers in a mining explosion and spend most of their time hunting together.
Peeta Mellark: Josh Hutcherson
Peeta is Katniss's tribute partner from District 12. He's the son of a baker and is considered a wealthy member of the district.
Image credit: Lionsgate
more entertainment
5 Entertainment apps you shouldn't live without
Movie review: John Carter
Movie review: Friends with Kids