"My First Reaction
Was 'no Way'"
Kate Miller-Heidke has opened up about her decision to appear on Q&A, including those rather incomplete responses.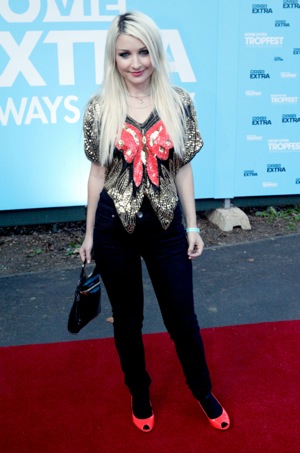 Kate Miller-Heidke likely hoped her appearance on ABC's commentary show Q&A would not have led to such an aftermath.
The singer received a fair share of criticism for appearing apathetic on questions of politics and economics.
Kate has since spoken her mind on her appearance, penning a piece for The Daily Telegraph.
It seems she was always wary of appearing on the show.
"Last time I was on Q&A, about six months ago, I went away thinking, 'Well, as expected, that was quite unpleasant. I'd better not do that again.'"
Apart from some green room shenanigans, she reckoned "It was awkward and weird and confronting and not at all an appropriate place for a non-political songwriter like me.
"Then, about two months ago I was asked by the producers to come back. My first reaction was 'no way.'"
She said she changed her mind because the show gave her a chance to sing one of her songs.
"I'm a musician. I want people to hear the songs I write and sing. Opportunities to play songs on TV in Australia are scarce. It's pretty much morning television or Gordon St Tonight. Or Q&A."
The singer said the show assured her the budget would only be one part of the discussion, and there would be room for her to chat about the arts and social issues.
She added that she knew little about the budget and was not going to pretend otherwise. "Why would anyone care what I think about that anyway?"
When asked about the budget and carbon tax during the show, Kate had said: "I don't really care about either of them, to be honest, sorry."
Kate also recently found herself in a shouting match with fellow singer Anthony Callea, after the Australian Idol winner criticised Kate's appearance on the show.
In her Telegraph piece, she made sure to include a final parting comment on the affair.
"So there you have it. It was good to get that off my chest. I'm now going to put on Anthony Callea's new album while I cry quietly in the bath."
Image courtesy of Robert Wallace/ WENN.com
More tv news
Revenge stars get cosy in Australia
The Voice gets hoarse with ill words
Rating woes for MasterChef