Labrinth: I Want To Work With Susan Boyle
He's got a top 10 song with "Earthquake," one of the most eclectic tracks to be released in years. His brilliant new album Electronic Earth is also riding high on the charts, but Labrinth has his sights set on pairing up with someone you'd never expect – Susan Boyle.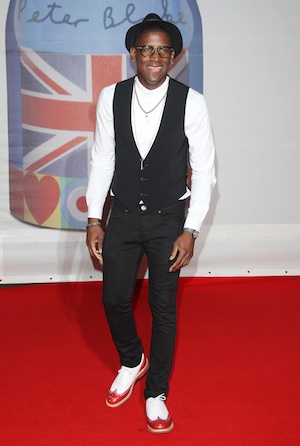 "I don't know how that happened, I really, really don't," the 23-year-old Londoner explains about the randomness of his current hit. "I think I'd just had some crazy days and then all of a sudden, I look at this track and I'm like 'Oh wow, there's a sort of Gregorian chant and there's some rock in there. What have I done?' It was like an artist just throwing paint at a canvas."
You'd think that there would be some sort of narcotic involved in creating a song as obscure as "Earthquake," but Labrinth ensures us he's just high on life.
"No, no, no, maybe it's a natural high man," he jokes.
The artist/producer has quickly become the go-to guy of 2012, with a long list of names lining up to have him sprinkle some of his electronic goodness on their upcoming albums.
"I've had calls from Alicia Keys, John Legend, Busta Rhymes… I'm tipped to work with quite a few people this year, it's going to be crazy man."
However, Labrinth has his sights set firmly on one person, whom he thinks he could make beautiful music with.
"Yep, course I do!" he exclaims when we question the truth of his statement. "I think I can do something with her vocals. I'd just put her on something that nobody would expect her to be on."
He has the idea all mapped out too.
"I spoke to Simon (Cowell) and I was like, 'Just let me get her on a track. If I could just put her vocal on a track, nobody would know who it was because it wouldn't be anything near to style. Then one day all of these cool kids will be listening to this record going 'This record is amazing, who is it?' and I'll be like, 'It's Susan Boyle,' and they'll be disgusted and be like, 'What happened, how?' and I'll sit back and watch people's heads exploding in the club.'"
We'd pay good money to hear that collaboration.
Photo credit: Lia Toby/WENN.com
More Music News
Guy Sebastian: A break and enter scare
Ed Sheeran's Australian tour sells out
Lady Gaga's charitable tea cup for Japan