Home And Away
Plays Matchmaker
It has been a surly period for celebrity love, but there is some good news. Home and Away stars Luke Mitchell and Rebecca Breeds are engaged!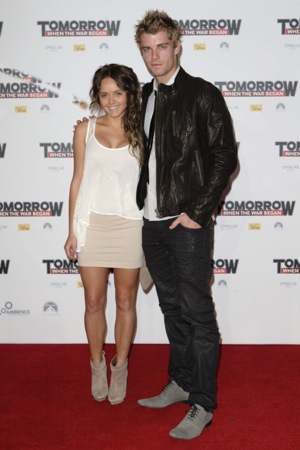 Like fiction, like fact. Rebecca Breeds and Luke Mitchell play an on-screen couple in Home and Away. Now they seem set to play real-life wife and husband, with the news the pair are engaged.
The story is that Luke proposed to Rebecca while the pair were holidaying at the Hayman Islands in Queensland in April.
Talking to New Idea, Luke suggested it was not the easiest of experiences.
"Honestly, it was one of the most difficult things I've ever done in my life. I had the element of surprise -- I didn't tell anyone what I was planning, not a soul, not even my parents," he said.
Breeds had told Mitchell she was going to take him to the Hayman Islands as a 27th birthday present. In response, Luke used the three months before the trip to plan the proposal, including the important task of getting the ring.
"Pretending there was nothing special on my mind for three months before I actually asked her to marry me -- that was the best acting I've ever done!"
Image courtesy of Robert Wallace/ WENN.com
More relationship news
Celebrity Splits: Fiona O'Loughlin speaks, Seal's song
Emily Blunt's smooth love
Kris Smith speaks out about Minogue split