Sibling Love
Kylie Minogue has opened up about Dannii Minogue's recent split from Kris Smith, making it clear sibling support is her thing.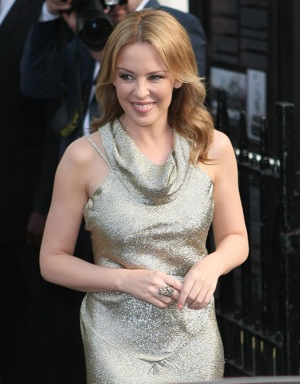 Kylie Minogue is a famed and lauded singer, certainly. But while recently chatting about Dannii Minogue's split from Kris Smith, the songstress made it obvious she is also a sister.
"We just have normal sister chats when we can -- and that's all you need to know, that your sister's there. If she called me and said, 'I'm really flipping out, I need to see you,' I'd be on a plane tonight," the ARIA hall of Fame inductee recently told Glamour magazine.
"But Dannii is tough... Dannii will be all right. Of course she'll be all right."
Kylie said her sister's main focus now is her son, Ethan.
"She and Kris have been amicable, and after heartbreak and disappointment, then it's just organisation, concentrating on Ethan."
There were a few words regarding the apparent secret liason between Simon Cowell and Dannii from a few years ago.
"It was a bit of a second blow after, 'Oh, my relationship has broken down.'"
The singer also recently spoke about her 2005 battle with breast cancer, saying she felt the episode changed other people's perceptions of her. She was no longer a "smiling doll."
"In Paris, where I had my treatment, I was in a terrible state and I had no idea how things were going to turn out. People would often come up to me and give me flowers, or wish me good luck. It was really overwhelming. Throughout this time I saw the best -- and the worst -- in people," she told Hello! magazine.
"Perhaps it was the first time that people understood that I was also just a woman who was suffering, and not just a smiling doll."
She revealed that the anger and emotion has not disappeared.
"Over time, people tend to forget. Not me. Not a day goes by that I don't think about it. I just have to look in a mirror; the scars are mental as well as physical."
"There are days when I feel incredibly angry; others when I can say to myself, in my unhappiness, that I was incredibly lucky."
Kylie was given the Outstanding Contribution award at the UK Glamour Women of the Year Awards.
Image courtesy of WENN.com
More celebrities opening up
Ricki-Lee: Says no to children, like many celebrities
Johnny Depp: Parenthood and rumour-soaked internet
Missy Higgins reveals her intrigue for Twitter