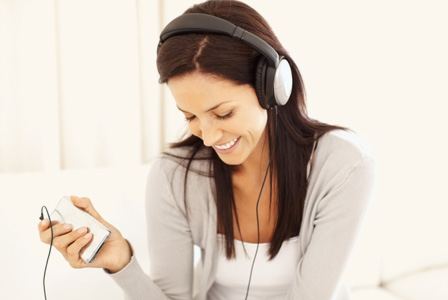 Don't let the cold and darker days get you down. If you're finding it hard to get yourself moving and your mood could do with a lift, it might be time to plug in your iPod and create a new playlist titled: Mood Enhancers!
Don't get down, get these great songs!
Music is such a personal thing. Not only do we all have our own taste and style in music, but certain songs will always trigger thoughts of momentous occasions or specific memories in your own history. Think back through your life and try to remember the occasions that made you laugh or smile. What year was it? What kind of music was on the charts during that time? Think back to your old CD/Cassette (or heaven forbid) your vinyl collection? Can you recall any albums that moved the earth for you? Perhaps there really is a soundtrack to our lives?
While you are cruising iTunes or your local music store searching for the playlist to end the mother of all bad moods, here's our pick of ten songs to lift you up again. Remember, these are only generic suggestions, feel free to scratch out songs and insert your own. If you're into heavy metal or you are a die-hard country music fan, perhaps this isn't the list for you!
80's Classics
1. Run DMC/Aerosmith - Walk This Way
2. Bon Jovi - Livin' On A Prayer
3. The B-52s - Love Shack
4. U2 - Pride (In the name of love)
5. George Michael - Faith
6. New Kids On The Block - You Got It (The Right Stuff)
7. Katrina and the Waves - Walking On Sunshine
8. Beastie Boys - Fight For Your Right
9. The Bangles - Walk Like An Egyptian
10. AC/DC - You Shook Me All Night Long
90's Classics
1. Lenny Kravitz - Are You Gonna Go My Way?
2. MC Hammer - U Can't Touch This
3. Ricky Martin - Livin' La Vida Loca
4. Sheryl Crow - All I Wanna Do
5. Britney Speaks - Baby One More Time
6. Spice Girls - Wannabe
7. Madonna - Vogue
8. Hanson - MMMBop
9. C + C Music Factory - Gonna Make You Sweat
10. Dee-Lite - Groove Is In The Heart
2000's
1. Black Eyed Peas - I Gotta Feeling
2. OutKast - Hey Ya!
3. Gnarls Barkley - Crazy
4. Beyonce Ft. Jay-Z - Crazy In Love
5. Beyonce - Single Ladies (Put A Ring On It) 
6. Rihanna Ft. Jay-Z - Umbrella
7. U2 - Beautiful Day
8. Pink - Get The Party Started
9. Lady Gaga - Poker Face
10. Jet - Are You Gonna Be My Girl?
2012
1. Flo-Rida - Good Feeling
2. Carly Rae Jepsen - Call Me Maybe
3. Rita Ora - How We Do (Party)
4. Delta Goodrem - Sitting On Top Of The World
5. Usher - Scream
6. Guy Sebastian - Gold
7. The Black Keys - Gold On The Ceiling
8. Ricki-Lee - Do It Like That
9. One Direction - One Thing
10. Nicky Minaj - Starships
We have given you a few suggestions, now crank up that stereo and get happy!
MOre Articles on happiness
How to boost your self-confidence in four easy steps
How to recognise and correct negative thinking
Mental effects of exercise