Celeb Support For
Her Cancer Battle
Kerri-Anne Kennerley has revealed the fight of her life. The television personality was recently diagnosed with breast cancer. Celebrities have offered their support and Kerri-Anne suggested her TV presence may have helped achieve the diagnosis.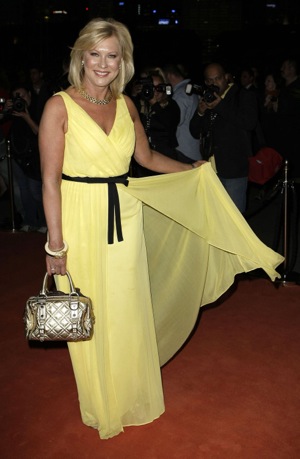 Kerri-Anne Kennerley has described it as "gut-churning fear." The TV personality recently revealed she has been diagnosed with breast cancer, and told New Idea about her experience.
Kerri-Anne suggested her presence on Seven Network's Dancing With The Stars (DWTS) may have saved her life.
"The doctor told me if I hadn't lost eight kilograms on DWTS, and if I hadn't been fiddle-faddling with that beaded bra, I might not have realised there was anything wrong for months," she told the magazine.
"I guess you could say DWTS may have saved my life."
She also explained that she has postponed treatment to ensure she appears in the show's finale.
"I couldn't possibly miss all that fun, I'm in need of a bit of fun."
The tumour has been described as "no bigger than a pea."
A candid exchange
The interview was surprisingly frank.
"I never thought I was the crying kind, but guess what, I was wrong," she has said of the moment she was diagnosed.
"It's like I have two people in my head. One is logical and goes: 'OK, what's the plan? The odds are in our favour, let's not get ahead of ourselves.' The other one is screaming and being an emotional lunatic.
"John [Kennerley, her husband] and I don't wallow, we don't do deep and meaningful, we've gone into problem-solving mode. I will know more after I have an MRI this week. I must say all this is bloody inconvenient, and it's funny how much the vanity factor kicks in," she confessed.
"I hate the thought of losing my breast -- I've explained that to my doctor very, very emphatically -- or even losing my hair through chemotherapy."
Star support
Stars such as former AFL star and fellow DWTS contestant Brendon Fevola, Olympian Raelene Boyle and Megan Gale have been coming out in support.
"To hear that news about Kerri-Anne, it's upsetting," Brendan told Seven's Sunrise. "She's a fighter and she'll get on top of this."
Megan tweeted: "Sending Kerri-Anne Kennerley lots of love, support & strength. If anyone can tackle this head on, KAK can!"
Raelene congratulated Kerri-Anne for going public saying, "If you have lived in the public eye, if something like this happens to you, you don't even realise how many people you could influence to remind them to go out and have checks."
"I didn't have any symptoms except perhaps I was a little more tired than usual; I didn't have any of the risk factors," Kerri-Anne said. "That's why I thought it could never happen to me. I didn't have a family history, I don't smoke, I've always looked after myself, but here I am.
"I don't want to become a pin-up girl for anything or anyone really, but this is a bit of a serious message. Listen to your body."
Rove McManus, Chrissie Swan and Peter Hellier have all publically offered their support as well.
Image courtesy of Robert Wallace/ WENN.com
more celebrity news
Cate Blanchett's novelty: New hair, new role
Baz Luhrmann not feeling The Great Gatsby pressure
George Houvardas to join the Packed to the Rafters evacuation?