Simple Plan Could Be In Trouble With Perry
Canadian rockers Simple Plan, currently on tour around Australia, are known to have their tongue firmly planted in their cheek when it comes to naming their albums. But one they've got in the pipeline could land them in hot water with Katy Perry.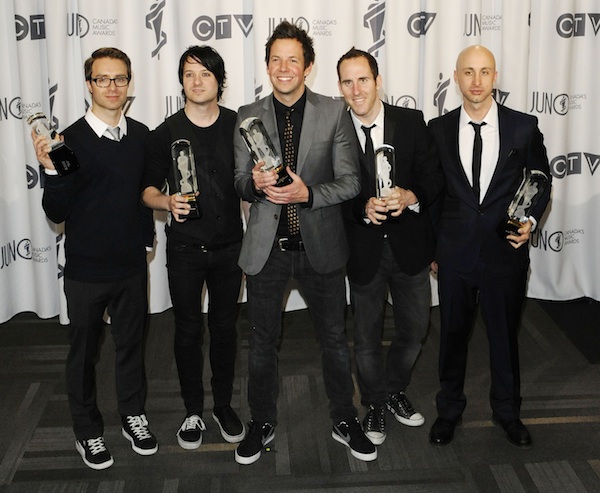 The band's debut album No Pads, No Helmets… Just Balls kicked off their humorous album titles back in 2002, followed by Still Not Getting Any… in 2004 and most recently Get Your Heart On!
When asked about their ideas for the name of their next release, bass guitarist David Desrosiers subtly tells fellow bandmate Jeff Stinco, "Don't say it! We might use it for the EP!"
With a little bit of encouragement, however, the name is finally coaxed out of them.
"Katy Perry had Teenage Dream, we had Teenage Streams," Desrosiers reveals as the pair of them crack up.
Naturally, lawyers might argue that Katy Perry wouldn't be too pleased about having her album title mocked, however, the band seems to think she has a good sense of humour and would let it slide.
"I think she'd love it!" Stinco says before his fellow band member drops a clanger that stops everyone in their tracks.
"I think she would want to pee all over me," Desrosiers says.
For a brief moment, everything goes completely silent backstage in Simple Plan's dressing room, to the point where you could almost hear a pin drop. We all sit there in stunned silence for a brief moment before Stinco interjects.
"That could be a reaction, that's a possible reaction," he says.
"We got a few other ones (funny album names)," Stinco adds. "I just can't remember them. We've got a good list of stupid ones."
"I like Urine Trouble," Desrosiers says, continuing with the pee theme.
"You know, we had a really good one," Stinco reveals. "In Japan, they pronounce Simple Plan shrimp or prawn so we wanted to call this record Shrimp or Prawn, but that would have been racist or on the borderline. So (internally) we called our tour of Japan the shrimp or prawn tour. It was an inside joke!"
Photo credit: Dominic Chan/WENN
More Music News
Timomatic reveals bizarre fan moments
One Direction talk tensions in the band
Ten songs to boost your mood