Parting On Good Or Humorous Terms
Courtney Cox and David Arquette have ended a relationship the best way possible: as friends. Meanwhile, Russell Brand has been making wise-cracks about his parting from Katy Perry.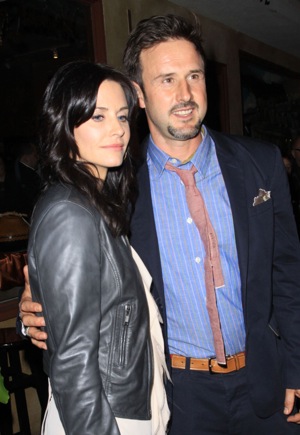 It is now official: Courtney Cox and David Arquette are to officially go their separate ways with the news David has filed for divorce.
To be sure, they have been split for a couple of years already. However -- and this is a nice point for both them -- the relationship seems to be coming to a formal end with both parties on good terms.
Recently, Courtney said in an interview that their relationship was better now than it would have been had they been living together. She also has been at David's appearances on the American run of Dancing With The Stars.
Meanwhile, following their initial separation, in October 2010, they said: "We remain best friends and responsible parents to our daughter and we still love each other deeply."
David has asked for joint custody of their daughter, and he will be representing himself in court.
It all seems to be pointing towards a civil parting of ways. That is probably a good thing given Courtney's sitcom, Cougar Town, is produced by David.
It is not clear if there is a specific reason for David filing for divorce at this time.
Russell Brand and Katy Perry are another star couple whose relationship has dissolved. Regardless, comedian and actor Russell has been making jokes about the short-lived marriage.
"I suppose the divorce is difficult because of the admin. There's a lot of admin," he recently said in an interview with ITV1.
He did grow more serious, opting for a decidedly philosophical appraisal of their relationship.
"When I was married it did work out in a way because I was married for some time and that's really good and then you're not married and that's really good. You just have to have acceptance of things."
"She's a person that I love but now this a new time. We were suited for that amount of time, but this is a new time."
Image courtesy of FayesVision/WENN.com
More Celebrity relationship news
McFadden and Goodrem saga: Legal eagles soar in
Griffiths and Jackman: Kids, work pulling them home
A new team: Jessica Marais, James Stewart on parenthood