Brown Announces Fortune As "Last Album"
The big question to come out of the 2012 BET awards, held July 1 at the Shrine Auditorium in Los Angeles, is did Chris Brown announce his retirement from music during his acceptance speech for Best Male R&B album?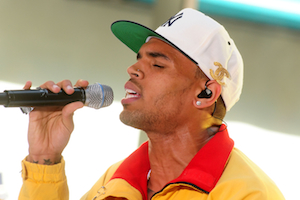 "I'd like to thank Team Breezy, everybody who worked on any one of my albums," Brown told the crowd during his acceptance speech.
"My last album that's coming out in two days... I just want to thank all my fans. It's dedicated to y'all. This one's for y'all, man, I appreciate everything."
Following his comments, the web erupted with stories proclaiming that Chris Brown is quitting the industry, which had fans bombarding websites and forums to share their concern.
However, a rep for the 23-year-old singer has squashed the buzz and has gone on the record to confirm that Brown is not quitting music. Instead in his speech, he was simply referring to the last album he made, not his last album of all time.
Brown, who has been under constant scrutiny since he was accused of beating his girlfriend Rihanna in February 2009, is often attacked by the media, which has led to only a handful of interviews for his latest album Fortune.
"We're not trying to be rude, selfish or disrespectful to anyone in any way," Brown's manager, Tina Davis, told Billboard earlier this year. "If people are going to judge anything, judge him for his talent. He signed up to sing and entertain. Not to talk about his personal life. We look at it as starting all over."
She added, "As much as some people wanted him to go away, his business life and personal life are totally two different things. And his love for music and his talent still shone throughout all of the good and bad times. So part of the strategy was to introduce his core fan base to Chris Brown now: the same talented guy who's 22 [at the time] and has a little more edge."
We've seen his "edge" -- it's time to let the talent shine through.
Photo credit: WENN
More Music News
Adele pregnant with her first child
We The Kings write song about Aussie girl
Timomatic reveals bizarre fan moments