That Was Quick: Tomkat Divorce A Done Deal
Well, that was quick! In less than two weeks, Tom Cruise and Katie Holmes have gone from having (what we thought was) a happy marriage, to announcing their split, and now they've have already settled out of court, avoiding a mammoth media frenzy in the process. Things work fast in Hollywood!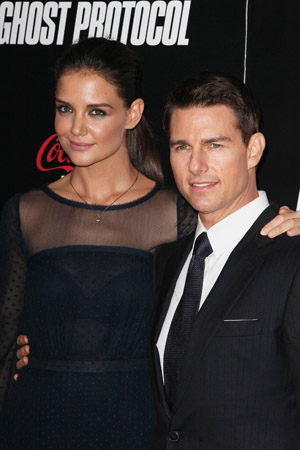 While rumours are flying as to why Holmes called it quits after nearly six years of marriage, the media seems intent on putting the blame on Cruise's involvement in Scientology.
Reports state that the couple have been meeting behind closed doors for hours a day to thrash out an agreement. It centres on their 6-year-old daughter, Suri, and their division of assets, despite an airtight pre-nup that allegedly prevents Holmes from getting her hands on Cruise's estimated $250 million fortune.
"The Tom Cruise-Katie Holmes case has been settled with a signed agreement," Cruise's longtime lawyer, Bert Fields, told TMZ.
"Tom is really pleased we got there, and so am I."
According to a source, Cruise was not prepared to negotiate a deal unless there was "meaningful, significant contact with his daughter… She is the primary concern in his life."
Holmes' lawyer, Jonathan Wolfe, said in a statement, "This case has been settled and the agreement has been signed. We are thrilled for Katie and her family and are excited to watch as she embarks on the next chapter of her life."
The final word on their split comes from the couple themselves, with a telling joint statement being released to the media:
"We are committed to working together as parents to accomplishing what is in our daughter Suri's best interests. We want to keep matters affecting our family private and express our respect for each other's commitment to each of our respective beliefs and support each other's roles as parents."
Photo Credit: PNP/WENN.com
More Entertainment News
P!nk's back and is as cheeky as ever!
Will Smith and family taking over the world
Hilary Duff: Back off my body image