Eamon talks MasterChef and poolside treats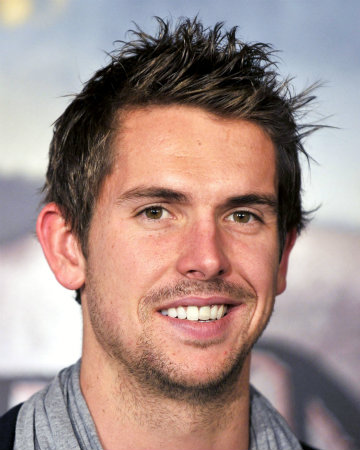 Meet Eamon Sullivan
In 2004, aged just 19, Eamon Sullivan headed to Athens to compete in his first Olympics. Two years later he collected a Gold medal after competing with the medley relay team at the Melbourne Commonwealth Games, and he took home a Silver medal at the Summer Games in Beijing.
As the Perth-born swimming champion prepares to compete at London 2012, we spoke with him about his MasterChef win and what it takes to eat like an Olympian.
As an elite athlete who invests dozens of hours per week into his own health and wellbeing, Sullivan pays a lot of attention to what he eats.
"It's important to know about the food you're eating, and to eat good, healthy whole foods, nothing processed," he says.
"Lean meats and vegetables are a huge part of my diet and I think it's good to cook your own meals rather than eating out, so you're in control of everything that goes onto your dinner plate."
Sullivan's commitment to eating well has clearly inspired him to mix things up in the kitchen, if his results during 2009's Celebrity MasterChef are anything to go by. He admits that he was surprised to make it through to the finals, and absolutely gobsmacked when he took out the title!
"I was by no means a whiz in the kitchen, but I've always enjoyed cooking," he adds.
"MasterChef was an incredible experience and opened my eyes to the food world. I am a very competitive person so I pushed all the way to the end!"
The swimmer, who added another string to his bow when he was crowned 2011 CLEO Bachelor of the Year, has taken his interest in food to the next level by launching his own eating establishment in his hometown.
Together with his business partner, Laki Baker — a seasoned television producer with 18 years experience under her belt, who Sullivan met while working on MasterChef — he owns a café in Perth, called Louis Baxters. The café, named after Eamon's and Laki's French bulldogs, Baxter Sullivan and Louis Pierre Baker, is "the result of years of planning and recipe testing."
A career in the competitive world of swimming was never a sure thing, and Eamon admits that there was a time where he considered becoming a chef. However, his swimming career did take off, but his love of food and cooking stayed with him, so now he enjoys the best of both worlds!
Still, the down-to-earth athlete says his favourite poolside snack is a classic Aussie favourite that may not be super healthy, but is super delicious.
"You can never go wrong with a good sausage in some fresh bread," he says, "with tomato sauce, of course!"
Image: WENN
More healthy eating
Foods that stimulate your brain
Brekkie super foods to kick-start your day
Eat like the French and stay slim