Top Film Picks
No matter what your mood or occasion, you'll hear about your next favourite movie right here. Whether you're planning a girls' night in, need a good chuckle or are picking a movie for your partner, these are the films you need to watch.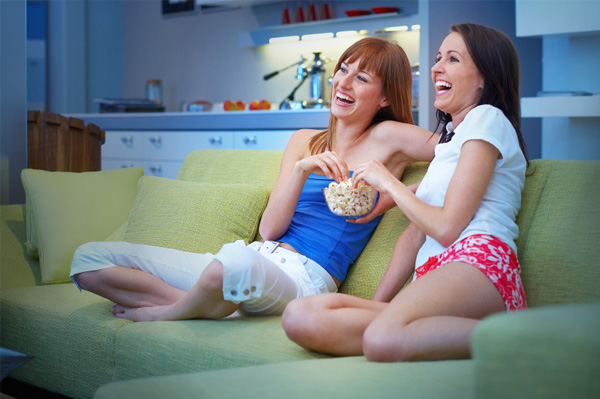 Whether you've got the kids huddled around the TV on a Saturday night, having a quiet night in with the girls, or you're in need of a bit of a pick-me-up, we've got the best movies for you. Roll credits...
Girls' night in
The Notebook: We have just two words for you: Ryan. Gosling. While you're probably already reaching for the remote, you should also know this is a cleverly told love story set in 1940s North Carolina. Also starring Rachel McAdams, this award-winning film was based on the novel by Nicholas Sparks.
Pretty Woman: Ah yes, what's a girls' night without a classic flick like Pretty Woman or Dirty Dancing?! So many famous scenes, quoted lines and iconic looks -- this is the film that first paired the charming Richard Gere with the equally charismatic Julia Roberts.
Amélie: Amélie Poulain (played by Audrey Tatou) is a quirky and naïve young woman living in Paris. With an equally peculiar father and workmates, she embarks on a mission to help not just her friends, but also complete strangers find love. (And of course, along the way she discovers love too.)
Comedy kick
Bridesmaids: Starring Saturday Night Live queen Kristen Wiig with a hilarious cast of women including Maya Rudolph, Melissa McCarthy and Australia's own Rose Byrne, you'll be crying with laughter (or memories) as one woman tries to keep herself together while she helps her best friend plan her wedding.
Little Miss Sunshine: Equal parts adventure, drama and comedy, this is a feel-good flick about one American family's roadtrip across the country. When little Olive sets her heart on entering a beauty pageant, the Hoovers head off on adventure to be remembered. Cue drama, car troubles and a whole lotta laughs!
Annie Hall: This classic Woody Allen film stars the writer himself, alongside a young, ditsy Diane Keaton. Packed full of awesome one-liners and intriguing outfits, this cute film will help you rediscover -- or perhaps discover for the first time -- the genius of Woody Allen.
Date night
Date Night: You can't go past this film for the title alone, right?! Starring the hilarious Tina Fey and Steve Carell, this film is about a married couple's attempt at a romantic night out that turns into a little more of an adventure than they'd bargained for!
The Royal Tenenbaums: This eccentric cast of characters -- played by acting greats like Anjelica Huston, Gene Hackman, Gwyneth Paltrow and Bill Murray -- prove that no family is "normal." If you or your date are fans of Wes Anderson, you'll love this. It's a fun tale of a bunch of former child prodigies who all return to their family home in the middle of a crisis.
Old School: Luke Wilson, Vince Vaughn and Will Ferrell are three middle-aged guys who decide to inject a bit of fun into their lives by giving uni another shot. This comedy will lighten up your date and offer plenty of laughs.
entertainment news
Will Smith and family taking over the world
Adele pregnant with her first child
We The Kings write song about Aussie girl