London Shines As
Games Kick Off
It was going to be hard to top the spectacle of Beijing's opening ceremony four years ago, but the Brits pulled something truly unique out of the bag as the eyes of the world focused on London and the beginning of the games of the XXX Olympiad.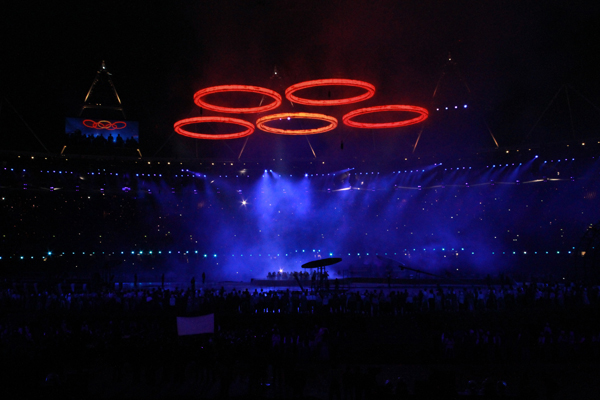 With an estimated budget of £27 million, this was never going to be an ordinary opening ceremony as Danny Boyle, the man responsible for Slumdog Millionaire, had the daunting task of producing the three and a half hour ceremony.
In a display showing the development of the U.K. over the ages, Boyle transofrmed the entire stadium floor into lush rolling hills of green grass and filled the show with appearances from James Bond, Mr Bean, JK Rowling, Sir Paul McCartney, David Beckham, Dizzee Rascal and The Queen!
Described by one commentator as "brilliant but bonkers," it was a magnificent show that has won almost universal praise for its size, scope and entertainment.
However, the segment that received the biggest buzz was the one involving actor Daniel Craig as James Bond 007. He suavely struts into Buckingham Palace and is met by The Queen of England, who he escorts to a waiting helicopter - corgis in tow - before they both apparently sky dive into the stadium!
"You don't have to tell her something twice," Boyle said of directing Her Majesty in the five minute segment. "She picks it up straight away, about cameras and angles. She is a good actor - she is good at it. And she was very gracious in giving us access really."
A spokesperson for Buckingham Palace said The Queen was "delighted to be asked to be involved in something so exceptional."
Beckham, who helped secure the games for London as well as carry the torch, was chuffed at being a part of the opening ceremony saying, "To have an Olympic Games in London is amazing but to have it in an area where I grew up, I'm very proud to have been part of that for the last eight years."
With its massive budget and a worldwide audience estimated at over one billion viewers, Boyle's spectacle involved over 2,000 props, 57,000 garments and 7,500 people who put in 150 hours each to run through the show 284 times prior to unleashing it on the world.
And what a show it was!
More olympic coverage
A guide to the Australia events at London 2012: Week 1
Eamon Sullivan on eating like an Olympian
Olympic themed treats