Jones Said Criticism
Was Great For Swim
What was meant to be one of the happiest weeks of her life, as she geared up for her fourth Olympic games, Leisel Jones was faced with the sharp end of the Australian media's knife, with one outlet claiming she was unfit to take part after a series of unflattering photos hit the headlines.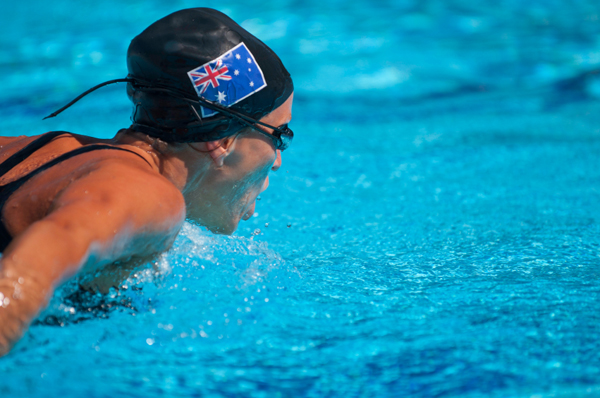 Many Australian media outlets ran the pics during the week, with one writing the caption, "The Olympic veteran's figure is in stark contrast to that of 2008," and then running a poll asking if she was "fit to swim" at the games.
The outcry was swift and fierce, with many of our elite athletes leaping to the defence of the 26-year-old multiple gold medal winner.
"Leisel Jones is the epitome of a champion in our sport and it's a huge honour to represent Australia alongside her. Support our athletes!!" Libby Trickett wrote on Twitter. "To do what she's done, to have the longevity that she has had over 4 Olympics is something to be truly admired. I know I do!!"
Head coach Leigh Nugent explained that it comes with the territory of being a high profile sports star.
"There are lots of stories before the swimming starts," he said. "We've had discussions with our athletes and our coaches about the stories that do get written before the meet starts. Before our trials it was all about Thorpey and what he was going to do or not going to do, how much money we were supposed to have spent on him and then, when the swimming started, it was over. We know that's the routine and rhythm of things at these meets and if you get up in the morning and read all the stories, you are crazy."
The last laugh came on Sunday night when Jones came second in the women's 100m breaststroke heat and admitted afterwards that the comments had fired her up.
"It's the best thing that's ever happened to me," she told Channel Nine. "I couldn't ask for anything more… I've had nothing but support and I think that has probably touched me the most, that was probably what made me the most impressed.
"So thanks to the journalist who decided to write not-so-nice comments about me, because you've never made me feel so loved in my life," she added. "So thank you."
More Olympic coverage
A guide to the Australian events at London 2012: Week one
Opening ceremony: From the Queen to the clothes
Stephanie Rice regrets first performance in pool