Why Are Celebs Always Caught Out Naked?
In the world of celebrities, it almost seems like a right of passage now that at some point the world will see you naked. So we've decided to compile the SheKnows Top 5 Celebrity Nude Scandals.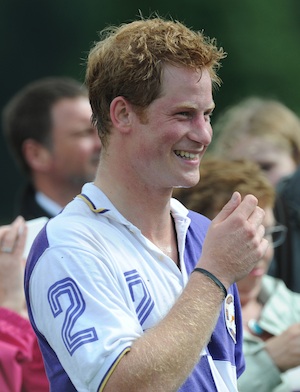 Whether a celebrity's phone or computer gets hacked or they just get drunk and nude up near someone with an iPhone (we're looking at you Prince Harry), the message doesn't seem to be getting through to the celebs who continuously get caught out!
Miley Cyrus
Let's be honest, Miley's never been immune to a juicy photo scandal.
Whether she's tweeted out a happy snap in her bra and undies or the steamy set of pics that leaked earlier this year of her naked in a bathtub -- which were allegedly taken exclusively for fiancé Liam Hemsworth -- Cyrus is great tabloid fodder no matter what the pic (clothed, unclothed or simply just a snap of her new 'do!).
Rihanna
This one set the net on fire when they hit the World Wide Web back in 2009. A series of nudie shots of the pop princess were leaked online showing pretty much everything God gave her.
At the time, celebrity gossip blogger Perez Hilton blamed Rihanna's ex-boyfriend Chris Brown for the leak, however, Brown denied any wrong-doing with his rep releasing a statement saying, "Chris has not released or 'leaked' any photos of Rihanna (or anyone else for that matter)."
Scarlett Johannson
The saucy snaps of the Hollywood golden girl shocked everyone when they were hacked from her phone and uploaded onto the interwebs.
Taken for only the eyes of then husband Ryan Reynolds, Johansson went straight to the authorities and admitted to being incredibly embarrassed at the personal invasion.
"When all those photos came out, of course I go out to dinner and think, 'God**** it, these people have all seen my. . . .'" Johansson told Vogue. "That's terrible. You know what I mean? You can't not think that. Even if they haven't, you're paranoid."
Lara Bingle
It's the scandal Bingle can't evade and one she wasn't responsible for. A pic allegedly taken by ex-boyfriend Brendan Fevolva when she stepped out of the shower was leaked to the media after they split and it's a topic she gets asked about constantly.
That was until the 24-year-old model decided to stand at her Bondi Beach apartment balcony window completely in the buff and was quickly snapped by the paparazzi who had their telephoto lenses pointed straight at her. They weren't disappointed.
Prince Harry
Normally it's the ladies that get the Internet exploding when a naked pic scandal hits, but this time around Prince Harry blew up the web when snaps from a drunken night out in Vegas hit the web.
There was no mistaking Harry, who's said to have stripped after loosing a game of naked pool, covering his genitals and bear hugging a woman in a number of shots initially published by TMZ.
Buckingham Palace was said to not be amused by The Prince's latest antics but made no further comment about the snaps. An investigation, however, is said to be underway with the Palace trying to find out what happened to his minders and why cameras weren't confiscated.
Photo credit: Zak Hussein/WENN.com
More entertainment news
Engaged: Avril Lavigne and Chad Kroeger
Guy Sebastian: Why X Factor is good for Oz music biz
One Direction cover "Wonderwall": Haters Unite