1D, Rihanna Forgets And "Twilight" Trailer
Ear, nose and throat specialists in the Los Angeles area will no doubt see a spike in visits this week from audience members of the 2012 MTV Video Music Awards. With appearances from One Direction, Robert Pattinson, Taylor Lautner and more, this year's awards was a deafening scream-a-thon from go to whoa!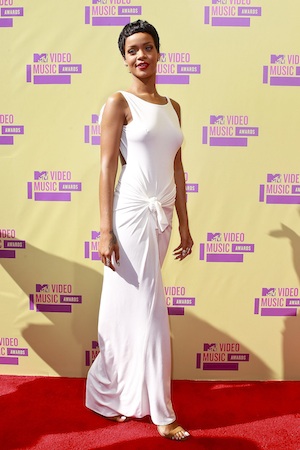 In what was a more low-key affair than we've come to expect from previous VMAs (there was no Kanye interruptions, no Bruno sitting on the face of Eminem, no girl on girl action), One Direction was obviously the fan favourite taking out three Moonmen and performing their smash "One Thing".
"To win one Moonman is amazing, to win two is incredible and to perform is absolutely ridiculous," Harry Styles said of the band's big night.
Rihanna picked up the top award of the night for, winning Best Music Video for her collaboration with Calvin Harris on "We Found Love", however, the singer forgot to thank him during her acceptance speech!
"I knew u meant to thank me @rihanna its (sic) cool we're fine lol," he wrote on Twitter from his booth in the middle of LA's Staple Centre, where he DJ-ed in between the presenters and performers.
R-Patz took to the stage to unveil a new trailer from the upcoming Twilight flick, telling the screaming fans, "It has been an amazing journey and we would like to thank all the fans of the series for their incredible enthusiasm from the beginning until now, the final chapter."
Noticeably absent was his former girlfriend and Twilight co-star Kristen Stewart, who's in Canada promoting her new flick On The Road.
Stand out moment of the night goes to R&B crooner Frank Ocean, who performed his track "Thinking Of You" with nothing more than an accompanying guitarist in front of what appeared to be a real bonfire and reeds.
His performance was also the top trending moment of the night on Twitter.
Photo credit: WENN.com/FayesVision
More entertainment news
Kim Kardashian admits she wants Kanye's babies
Hugh Jackman dishes out diet advice to Anne Hathaway
Top 5 celebrity nude scandals