Oops! Emma nearly bares all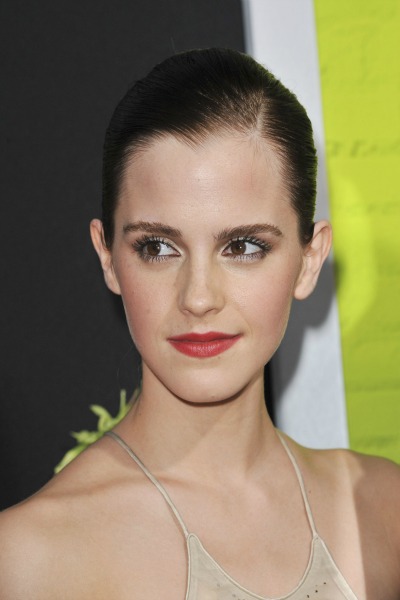 Good girl gone bad
Could it be true? Did the former face of Burberry, the "Harry Potter" star, the elegantly presented, the ever well-dressed and absolutely gorgeous Emma Watson get her boobs out on the red carpet? Surely not?
Well not entirely, but she did let one make a brief appearance at the Los Angeles premiere of her new film The Perks of Being a Wallflower. Perks indeed, Miss Watson!
Luckily, a patch of Hollywood tape saved the day, but being the classy girl she is, Emma quickly realised there was a situation and got herself sorted. Nice work, Emma.
She was hardly fazed by the whole incident though and went on to chat with fans, sign autographs and continued looking absolutely gorgeous on the red carpet in her backless lace dress.
As if a bit of boob action wasn't scandalous enough, Emma later posted on her Twitter account that she is "the most dangerous celebrity" on the internet as one in eight searches containing her name leads to malicious websites.
"Apparently I'm dangerous," she tweeted.
And she might be right about that and not just because of whatever websites keep popping up online. It seems Emma is moving away from goody two-shoes roles like Hermoine and is moving towards more mature and slightly darker personas.
Not only does she play the role of a high school misfit who befriends a depressed and possibly suicidal freshman in The Perks of a Wallflower, but in Sofia Coppola's The Bling Ring (out next year), she dabbles in drugs and gets busy with some pole dancing.
"It was way out of my comfort zone," Emma says. "This movie has helped me shake off a lot of the fear and restrictions I put on myself," she says.
"Slowly I'm giving myself permission to be an actress and not worrying so much what people think about it."
Check out the trailer to Emma's new movie here.
Image courtesy of Apega/WENN.COM
More celebrity news
Kim Kardashian admits she wants Kanye's babies
Scissor stalker arrested in Miley's home
Top 5 celebrity nude scandals