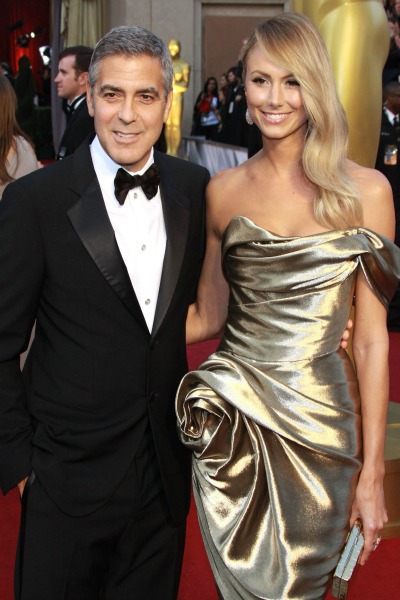 Bachelor status again?
Who's sad to hear George Clooney might be single again? Anyone?
It must be difficult being the most gorgeous man in Hollywood. Women throwing themselves at you all the time, actresses and models lining up to meet you. His latest catch, Stacy Keibler, is gorgeous, no doubt about it. So come on, George, what's going on? Surely this one was a keeper?
Apparently not as reports leaked that Keibler, 32, and Clooney, 51, have split due to George's reluctance to tie the knot.
Now, Keibler is not a woman to be messed with. She is a former WWE wrestler after all and I am guessing she could do some serious damage.
But reports have leaked that the couple split, despite George's rep denying the story, which was published in London's tabloid, The Sun.
Keibler reportedly told her friends that the relationship is over and The Sun said a statement from the former couple was expected to be released soon.
Whether or not George is destined to be a bachelor forever, he has definitely had his share of bomb-out relationships.
He was first married to actress Talia Balsam in 1989 until they divorced in 1993 and he vowed he would never marry again.
Then there was the on-and-off relationships with British model Lisa Snowdon and waitress and reality personality Sarah Larson. Then, of course, there was the relationship with Italian actress, TV personality and bombshell Elisabetta Canalis, which ended in June of last year.
But there's also been the odd fling with Kelly Preston -- before she married John Travolta -- Renée Zellweger, Sandra Bullock and Krista Allen.
George also dated waitress Celine Balitran from 1996-1999, so who knows, there might just be hope for those of us who aren't leggy models or famous actresses after all. Hey George, call me maybe?
Image courtesy of Ian Wilson/WENN.com
More celebrity news
Engaged: Avril Lavigne and Chad Kroeger
Jennifer Aniston and Justin Theroux engaged!
Robert Pattinson ducks while Kristen Stewart hides