Lady Gaga wears burqa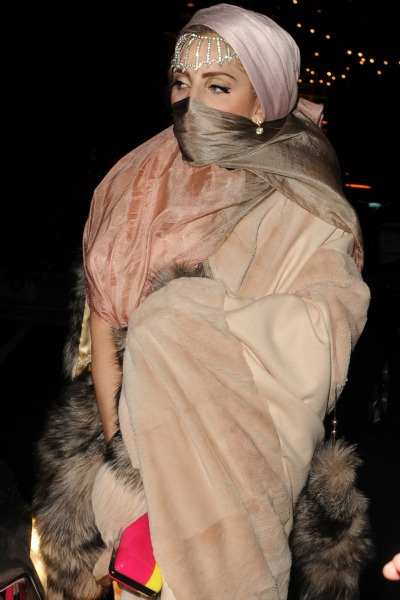 star wears
Can Lady Gaga ever go too far? Probably not, but this time she's gone pretty out there.
The queen of shock attended London Fashion Week, and boy did everyone know about it.
Not only was she wearing a burqa draped with actual racoon tails but she also held a clutch which had the C-word written on it in big bold yellow letters.
Divine, Gaga, absolutely divine!
Lady Gaga wore the outfit after starring in Philip Treacy's London Fashion Week Show.
Love her or loathe her, Gaga certainly gets people talking and she has definitely shocked people with her love of animal fur.
Not only was she seen at London Fashion Week wearing fur but she was also spotted wearing animal during her tour of Bulgaria.
What's Gaga's response to the uproar?
"You see a carcass, I see a museum piece de résistance," she wrote in an official statement about her choice to wear fur.
Okay, not sure where you're going with this, Gaga.
"But I am truly sorry to fans who are upset by this, it's a fair and applaudable feeling about the health and safety of animals. I respect your views, please respect mine."
See the video of Lady Gaga at London Fashion week here.
Image courtest of Wenn.com
More celebrity news
Ricki-Lee: "I'll never marry again!"
Dina Lohan's messy Dr Phil interview
Jennifer Hudson addresses family