In The Grip Of Baby Fever
Another day and the "Great Kate Wait" continues, however, to keep us hanging on the edge of our seats, we've got some more royal baby news.
From further revelations about palace plans to pesky uncles weighing in on the sex guessing game, there's no shortage of royal baby gossip available.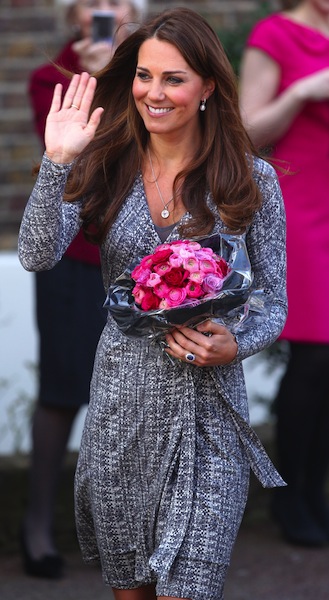 Palace and doctor on-call all month
Not to alarm you and make you think this is going to go on all month, but People magazine has revealed that certain staff are being kept on high alert all of July.
A palace insider has revealed staff will be "on call every day and night in July for this. There is nothing left to prepare or plan for."
They also revealed that Prince William's personal secretary, Jamie Lowther-Pinkerton, will be the first point of contact for the expectant couple the minute a contraction is felt. He will then call the Duchess of Cambridge's obstetrician, Dr. Marcus Setchell, on "... an encrypted signal. So, there's no way anyone can intercept it."
The doctor gets a special green emergency light to pop on his car for the dash to St Mary's Hospital.
The palace is expected to release a statement confirming a hospital admission has been made, followed by a formal written birth announcement that will be placed on an easel at the gates of Buckingham Palace.
Family members also speculating
Remember Duchess Kate's uncle Gary Goldsmith, the Ibiza party boy? Well he's popped up again in anticipation of the royal baby's arrival.
This time he's weighing in on the baby's sex. Goldsmith has told Hello! magazine that he thinks the little one is going to be a princess.
"I don't know the sex of the baby but my gut feeling is a girl. When I refer to the baby I say 'she' but I'm not sure why..." Sounds like his guess is a good as ours.
Meanwhile, someone who is actually close to the royal couple has revealed her thoughts on the baby's due date.
The Duchess of Cornwall (Camilla) has revealed that the baby will be due "by the end of this week." While speaking at an engagement in Cornwall, Prince Charles' wife let slip that, "We are all just waiting by the telephone."
If the royal baby was to arrive today it would, in fact, share his or her birthday with Camilla.
The name game heats up
So, the bookies are raking in a pretty penny or two from punters wanting to guess anything from the due date to the sex and names — Coral Bookmakers have their odds on the new bundle being a Princess Alexandra with brunette hair.
However, it's expectant mothers and even those who have just given birth that are really waiting on the name of the next heir to the throne. The Courant has revealed a survey shows 10 per cent of "... new U.K. moms are willing to leave their own newborns nameless in order to find out what [the royal couple] name their baby."
A mum-to-be told the survey collectors, "The birth of Will and Kate's baby is such a monumental event that is going to be remembered forever, just like the royal wedding. Giving my baby the same name is my personal way of celebrating."
Long live strong English names then.
More entertainment news
Darren Hayes marries husband again (legally!)
Mary-Louise Parker sick of the mean world
Fergie taking new family name before baby arrives
Image credit: WENN.com