Cookbooks To Inspire Your Inner Foodie
Whether you're the type of cook that routinely burns toast, or think you could give Adriano Zumbo a run for his money, these 10 cookbooks are a must-have for any kitchen.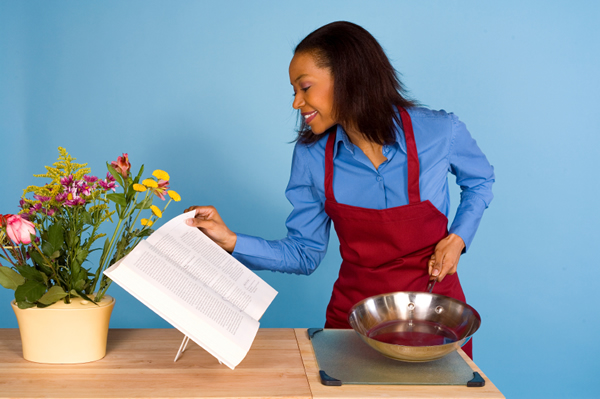 We've taken a look at the best of the best in the world of culinary greats and now it's time to present you with our top 10 cookbooks for any kitchen. Whether you're looking for something fast, French, Asian or just some good old country baking, these titles have got you covered.
1
Jamie's 30-Minute Meals
Author: Jamie Oliver
You've seen the show and the food looks great. Better still, Jamie guarantees you can have a complete meal (that's more than a toasted sandwich) on your table in less time than it takes you to watch Masterchef. Too good to be true? Maybe. But there's no denying the fact the food is simple, flavoursome, and doesn't require any fancy techniques. You know what it is? It's honest. And everyone loves a good honest dish, don't they?
2
Kitchen: Recipes from the Heart of the Home
Author: Nigella Lawson
Putting that sultry voice aside for just a moment, is there a girl out there who doesn't want to cook like Nigella? Didn't think so. Kitchen is Nigella's latest offering and, like her previous books, it doesn't disappoint. It's informative and engaging, seductive and nostalgic, and offers inspired new twists on some trusted, old favourites. There's also a great section on how to tackle leftovers -- a must for anyone who is keen to make the most of what's on hand.
Author: Stephanie Alexander
Good food is essential to living well and it doesn't get any better than the offerings from Stephanie Alexander's kitchen. This book is the kitchen bible -- a reference for ingredients, inspiration, cooking techniques and almost 1,000 fail-safe recipes. If you're only going to buy one book, make it this one -- it's perfect for non-cooks and cooks alike.
4
French Provincial Cooking
Author: Elizabeth David
From coq au vin to bouillabaisse, everyone needs a classic French dish or two in their repertoire. First published in 1962, Elizabeth David's French Provincial Cooking forever changed the way we think about food. Simple and elegant, David's book explores the authentic flavours and traditional techniques of French cuisine from provinces such as Alsace, Brittany, Provence and the Savoie. Full of authentic recipes and ideas, French Provincial Cooking is a straightforward celebration of French regional cooking.
Author: Bill Granger
Bill Granger believes that eating with friends and family should be a joy, not a stress. His book, Bill's Food, is packed full of simple, soulful recipes that are a pleasure to put together and a delight to serve. From potato cakes with smoked salmon to plum and vanilla cake, Bill's Food is a great resource for any meal, be it a hearty breakfast, spontaneous afternoon tea, light lunch or formal dinner.
6
Jam Drops and Marble Cake
Author: CWA
When you want to learn to bake, you need to turn to the baking queens. The ladies of the Country Women's Association (CWA) have put together a timeless collection of over 130 tried-and-true recipes in their most recent book, Jam Drops and Marble Cake. From peach blossom cake to Anzac biscuits, raspberry coconut slice to scones, this book is jam-packed full of nostalgic recipes that are sure to charm and delight.
7
My China: A Feast for All the Senses
Author: Kylie Kwong
If the ubiquitous stir-fry makes a regular appearance in your home, then prepare to take your cooking to the next level with Kylie Kwong's Chinese bible, My China. Travel with Kylie as she rediscovers her Chinese heritage, exploring the food and culture of a vast and enigmatic country. From rural simplicity to stylish Shanghai, Kylie celebrates Chinese cuisine with 80 inspiring recipes and a host of refreshing personal insights. This book is a must for any cook who is passionate about Chinese food and wants to add a touch of authenticity to their cooking.
Author: Neil Perry
Food is meant to be enjoyed by all the senses and, preferably, in the company of people you love. The Food I Love is a celebration of cooking and eating in a simple and wholesome way. With more than 200 recipes, from light breakfasts to slow roasts, Perry's book is packed with tips and techniques that will help make cooking a pleasure. The best thing? Each recipe leads seamlessly to the next, helping you to create a balanced menu for any occasion.
Author: Donna Hay
Fresh from one of Australia's most loved cookbook authors, Donna Hay, comes Fast, Fresh, Simple -- a collection of more than 160 new and exciting recipes perfectly suited to the cook on the go. When time is of the essence, fast, fresh and simple are key elements in preparing an appealing meal. In her new book, Donna has distilled her vast repertoire of shortcuts and tricks to making simple, great-tasting food into one must-have cookbook that will have even the most culinary-challenged whipping up a tasty dinner in no time.
10
AWW Children's Birthday Cake Book
Author: Australian Women's Weekly
First published in 1980, Australia's most famous children's cake book is back. The AWW Children's Birthday Cake Book is an absolute institution of Australian cake baking with many an adult fondly remembering their very own number cake, decorated by a loving mama's hands. Now, you can recreate your early years for your own little one with a vintage reprint of this family favourite. From swimming pools to flower baskets, rockets to trains, it's time to get your bake on for your next family birthday.
More foodie resources
Food bloggers we love
Must-have kitchen gadgets
10 Crazy food facts