Summer Sangria Recipes
We've got the hot tip to liven up your next get-together -- the perfect summer sangria, served in a tall glass with loads of ice! A cool combination of fresh summer fruits and red, white, rose or sparkling wine, sangria is a tasty, thirst-quenching beverage that is always a hit at parties. For some summer sangria inspiration, here are three sweet recipes to help you chill out in the heat of summer.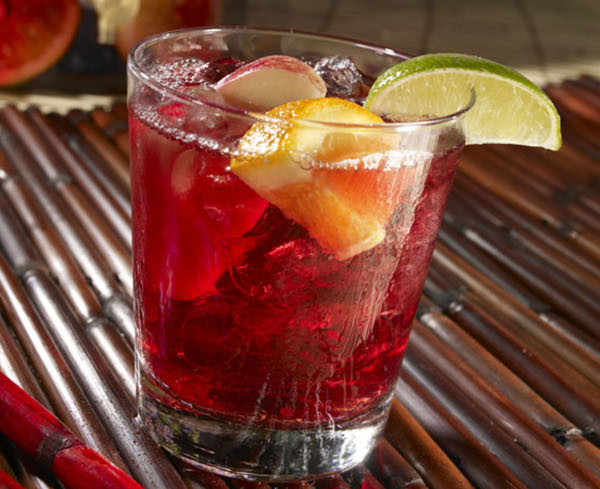 The ideal fruit for summer sangria
The great thing about sangria is, there are no rules: just about any summer fruit can be used to make sangria. Peaches, oranges, berries, apricots and even grapes are perfect starters, and apples are fun to include for a crisp fruity addition. If you're feeling tropical, mango and pineapple also offer a perfect tropical twist.
As a general rule, you want to use juicier fruits that will release their flavours into the sangria, and that will also be able to soak up the flavour of the wine.
Add wine, spirit and bubbles
Any wine can be featured in a sangria. Although red is the traditional type of wine used in sangria, there's no reason why you can't experiment with white wine, rose or even sparkling wine. Brandy is often added to sangria for an extra burst of flavour and, for a bubbly treat, you may want to top off your sangria mixture with a splash of ginger ale or club soda.
Sangria recipes
Red Wine Sangria - Makes 8-10 servings
Ingredients:
1 bottle of light or medium bodied red wine
2 tbs. granulated sugar
2 tbs. brandy
1 orange, thinly sliced (with skin on)
1/2 pint large blackberries
1/2 pint fresh cherries
4-5 cinnamon sticks
1 cup club soda

Method:
Combine wine, sugar and brandy in a large pitcher and stir well to dissolve sugar.
Add fruit and cinnamon sticks to the pitcher, stir, and let soak in refrigerator for at least one hour. Ideally, you want it to soak overnight.
When ready to serve, serve ice cold on the rocks, topped with club soda.
White Wine Sangria - Makes 8-10 servings
Ingredients:
1 cup fresh basil leaves, with more to garnish
3/4 cup granulated sugar
700ml peach nectar
1/4 cup peach flavoured brandy
1 bottle chilled dry white wine
1 large peach, diced
Method:
Muddle basil leaves with sugar in a small pot.
Add half the peach nectar and bring to a simmer. Stir and simmer until the sugar is dissolved. Remove pot from heat and let sit until cool.
Strain mixture through a fine colander into a pitcher.
Add brandy, wine, peach and peach nectar. Stir well and let soak in refrigerator for at least one hour, or if possible, overnight. When ready to serve, garnish with extra basil leaves.
Sparkling Sangria - Makes 8-10 servings
Ingredients:
1/4 cup orange flavoured liqueur
16 strawberries, sliced
1 punnet of blackberries
1 punnet of raspberries
1 bottle chilled champagne or sparkling wine
1 bag of seedless grapes
Method:
Combine orange liqueur, strawberries, blackberries and raspberries in a pitcher.
Pour champagne into pitcher and stir well.
Add grapes and serve immediately in a tall champagne flute, with a couple of blocks of ice.
More summer cocktails
Tyler Florence shows you how to make his favourite summer cocktail.
Some Summer Tips
Get glowing summer skin
Best summer looks for your body type
Best summer water activities