Quick Family Dinners Made Easy
Just arrived home and the kids are already crying out for food? Only got 10 minutes up your sleeve? Perfect -- keep nutrition on the priority list with these fast and easy dinner recipes for satisfying family meals.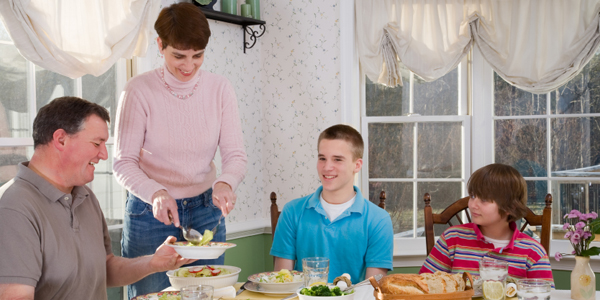 The key to a fast weeknight dinner is preparation. Here's how you can get dinner on the table in 10 minutes:
Plan ahead: Spare a minute during the day to decide what your family will be eating for dinner.
Inventory ingredients: Make sure the fridge and pantry are stocked with all the required ingredients. If you don't have them, improvise or head to the shops.
Prep: You can save a lot of time by prepping most of the ingredients during the day and storing them in the fridge.
Eat with the family: The best part of a home-cooked meal is taking the time to sit down with your family and catch up on everyone's day. Make sure that after spending all that time in the kitchen, you reward yourself with a relaxing meal.
Potato, broccoli and cheese soup
Ingredients:
1 head broccoli
1 tbs. butter
4 cups chicken broth
1 cup instant mashed potato flakes
1 cup sharp cheddar cheese
Salt and pepper, to taste
Method:
Cut the flowers only from the head of broccoli and reserve the rest for another meal.
Add butter to a large pan over a medium-high heat.
Cook the broccoli for about five minutes, or until soft.
Add the remaining ingredients and stir until mixture is smooth.
Season to taste. Serve immediately.
Firehouse chilli
Ingredients:
1 tbs. olive oil
1 onion, diced
1 capsicum, diced
2 cans pork and beans
1 can tomato sauce
1 tbs. brown sugar
2 tbs. chilli powder
2 tbs. onion salt
Method:
In a large pan, heat olive oil over medium-high heat.
Add onions and capsicum and cook in oil until softened, for about five minutes.
Add all other ingredients. Stir, then heat until very hot.
Serve topped with cheese, sour cream and chopped coriander.
Chicken and black bean tacos
Ingredients:
1 can black beans, drained
1/4 cooked chicken
1 tsp. cumin
1 tsp. chilli powder
1 tsp. lime juice or white vinegar
1 package small soft taco tortillas
Topping ingredients:
Lettuce, shredded
Tomatoes, diced
Onions, diced
Cheese, shredded
Method:
In a large, microwave-safe bowl, combine black beans, chicken, cumin, chilli powder, lime juice or vinegar, and salt and pepper to taste.
Heat in the microwave until hot, for about three minutes.
Serve on tortillas, topped with your favourite taco toppings.
Next: More quick family recipes >>