Summer Cocktail Fun
The nights are longer, the weather is warmer, and you're itching for an excuse to gather your friends for a good catch up. It sounds like the perfect opportunity to get all frocked up and throw a sizzling cocktail party to celebrate all things summer! Here are five easy steps on how-to throw a sizzling summer cocktail party.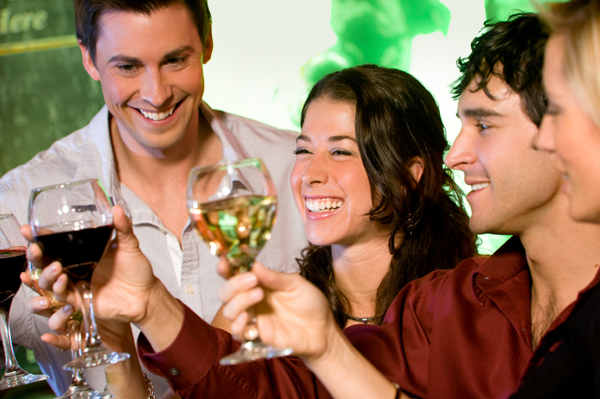 The cocktail comeback
Back in the day, when we were fresh out of school or university and we were just learning what it was like to make money, socialising was all about the budget: how can we have the most fun, and drink the most booze, without spending a bundle?!
As you grow older, however, you start to value quality over quantity. It's less about plonking down $8 for a five litre cask of wine, and more about investing in a good bottle of sav blanc from New Zealand. And when you're throwing a shindig, you can afford to be a little more creative.
Cocktail parties have made a comeback in recent years as a fun, elegant way to celebrate with your friends -- even if you're not celebrating anything in particular. What better way is there to spend your Friday or Saturday night? You get to dress up in a beautiful cocktail dress, style your hair in an extravagant "do", enjoy flavourful canapés and sip on delicious cocktail concoctions that are adorned with sweet little umbrellas. What's not to love?!
Your sizzling summer cocktail party
Create invitations
These days, it's perfectly acceptable to send out a cocktail party invitation by email or, if you move in online socially connected circles, via Facebook. If you're planning a more formal affair, however, printed invitations are the way to go. A personalised note, posted or hand-delivered, adds a little pomp and ceremony to the whole affair, as it indicates that the gathering is invitation-only. Make sure you include the basics -- date, time, location and RSVP -- and also be clear regarding what you expect each guest to bring.
Plan the food menu
The food you serve is just as important as the cocktails! If your summer cocktail party kicks off in the late afternoon or early evening, then your guests will be expecting heartier fare to make up for their missed dinner: think hot canapes such as pastries, pies and mini quiches. If the event is scheduled for 8pm or later, you may opt for lighter choices, such as raw vegetables with cheese and dips.
Make a music playlist
The music you play will set the tone for the party, so invest a little time into creating the perfect summer cocktail party playlist. If you're aiming to create a sophisticated soiree, go with the classics: Nat King Cole, Frank Sinatra, Michael Buble and Nora Jones will provide the perfect background tunes. Alternatively, if you want to encourage your guests to bust a move on the dance floor, schedule some upbeat dance or top 40 tracks.
Gather cocktail recipes
There are two ways to plan your summer cocktail menu. The less expensive option is to raid your alcohol cabinet to see what spirits you already have, and plan your cocktails around them. Otherwise, you can gather the recipes you like, and then buy the alcohol and mixers you'll need to make them. Either way, it's a good idea to have at least three cocktail recipes on offer on the night, to cater to all of your guests' tastebuds!
Get this party started!
Throwing a sizzling summer cocktail party really comes down to preparation. First, set up early in the day so you have time to race to the shops for any last-minute items. Then, pre-prepare as much as you can in the afternoon, so you don't spend half the night in the kitchen slicing up strawberries and filling ice trays. Finally, get your party face on!
There's nothing worse than feeling rushed when you're getting ready for your own party, so make sure you allow at least an hour or two to get into gear: have a shower, smother your legs with lotion, and spend time styling your hair and putting on make-up. Once you look like the hostess with the mostess, you'll be ready to throw a sizzling cocktail party that your guests will rave about for weeks to come.
Cocktail drink recipes
Recipe ideas