Quick & Easy
Dinner Party Dishes
Dinner parties should be fun. Far too often, though, the host or hostess whips up dishes that are either too time consuming or not so easy to make (which means more time in the kitchen than with guests). Don't do that. The next time you have friends or family over for some food, make these tasty recipes.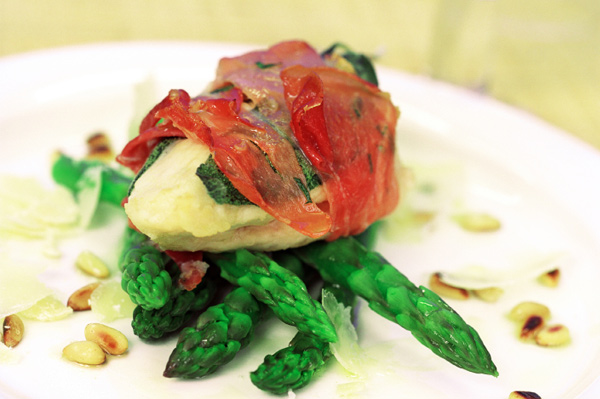 Prosciutto-wrapped chicken with pesto
Ingredients:
The pesto
1 bunch large bunch fresh basil
1 cup pine nuts
1 cup grated Parmesan cheese
2 cloves garlic
1/4 cup sun-dried tomatoes
Salt and pepper
Olive oil
The chicken
4 boneless, skinless chicken breasts
8 slices prosciutto
Directions:
The pesto
Puree the basil, pine nuts, cheese, tomatoes, garlic and olive oil in a food processor.
Season to taste with salt and pepper.
The chicken
Preheat oven to 375 degrees F.
Lay two slices of the prosciutto flat onto a work surface, overlapping them slightly along their long edges, to form a large rectangle.
Place a chicken breast lengthwise at the short end and slit it open along one side to create a wide pocket.
Spoon in some of the pesto and wrap the prosciutto neatly around it. Repeat for the other three breasts.
Place on a baking sheet, seam side down, and bake until golden and cooked through, about 15 minutes.
Roast Tomatoes with Baby Spinach
Ingredients:
8 roma tomatoes
2 onions, peeled and chopped
6 garlic cloves, sliced
1/4 cup extra virgin olive oil
Salt and pepper
1 pound baby spinach
Directions:
Preheat oven to 375 degrees F.
Toss the tomatoes, onions, garlic and oil together in a roasting pan and season with salt and pepper.
Toss well and roast until caramelized, about 45 minutes.
Place spinach into a salad bowl and pour in hot tomatoes, along with any juices.
Toss well to wilt spinach and serve immediately.
Mango & strawberry cobbler
Ingredients:
The filling
2 cups fresh or frozen strawberries
2 cups fresh or frozen mango
1/2 cup cup flour
1/2 cup sugar
2 tablespoons lemon juice
The topping
1 cup flour
1/2 cup cornmeal
2 tablespoons sugar
Pinch of salt
1/2 tablespoon baking powder
1 stick butter, frozen
1/2 cup milk
Directions:
The filling
Preheat oven to 375 degrees F. Place fruit into a large bowl and toss well with the flour, sugar and lemon juice.
Pour into a 2-quart ovenproof casserole or other dish. It's best if the fruit fills the dish but doesn't rise above the edges.
The topping
Whisk together flour, cornmeal, sugar, salt and baking powder.
Grate in frozen butter and mix lightly with fingertips.
Pour in milk and stir until mixture comes together and forms a rough dough.
Place spoonfuls of the dough on top of the fruit, evenly covering it. Bake until the fruit is bubbling and the topping is golden, about 45 minutes. Serve warm.
More recipes & food trends
Homemade condiment recipes
Wedding food trends
All about herbs: A breakdown of Indian spices