Make Your Own
Condiments
Making your own condiments is becoming a trendy way to save money -- and save your health from all of the sodium and additives that many topper products contain. With that in mind, SheKnows has compiled a list of the easiest and most delicious condiment recipes out there.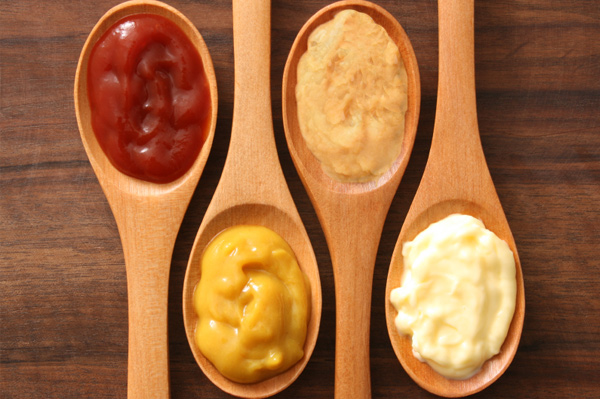 Equipment needed for each recipe

Bowls
Whip
Fine-mesh cheesecloth
Large sieve
Food processor or blender
Double boiler or microwave
Tupperware or mason jars
Courtesy of ShoestringMag.com, these are easy to whip up and are sure to tickle your taste buds.
Mustard
Ingredients:
1/2 cup Colman's dry mustard
1/2 cup white vinegar
Method:
Mix together and let set overnight.
The next day, beat 1 egg, 1/2 cup sugar and pinch of salt to taste.
Combine everything and cook in top of double boiler until thick (can also be done in the microwave). Let cool.
Ketchup
Ingredients:
1/2 cup tomato sauce
1/4 cup sugar
1 tablespoon vinegar
Dash of salt
Method:
Blend well.
Add more tomato sauce or salt if needed to balance taste.
Mayo
Ingredients:
2 egg yolks
1 to 2 tablespoons mustard
Dash salt and pepper
Squirt of lemon juice
1 to 1-1/2 cups olive oil
Method:
Combine all ingredients.
Whisk until you get the desired consistency.
Hummus
Ingredients:
1/3 cup fresh parsley leaves
2 strips lemon zest, 2-1/2 inches (bitter white pith removed)
3/4 teaspoons kosher salt
2 large garlic cloves
2 15.5-ounce cans chick peas (garbanzos), drained, rinsed and drained again
1/4 cup tahini paste
3 tablespoons lemon juice
1/4 cups water
2-1/4 teaspoons ground cumin
2 tablespoons extra virgin olive oil
Method:
Chop the parsley in food processor; set aside.
Pulse lemon zest and salt. Keep machine running and add garlic.
Add chick peas, tahini, lemon juice, water and cumin. Pulse to chop, then process one minute. Scrape the bowl and process again.
With machine running, pour olive oil in slowly. Process three minutes.
Add half the parsley and pulse to incorporate. Let the hummus sit for 30 minutes before serving.
Sprinkle with remaining parsley and drizzle with olive oil, if desired.
More recipes & food trends
Easy dinner party recipes
Wedding food trends
All about herbs: A breakdown of Indian spices