Trends In
Wedding Food
Wedding season is almost here, which means lots of brides and grooms are on the hunt for this season's bridal trends. What does the 2011/2012 nuptial season have in store? Without further ado, we present SheKnows' predictions.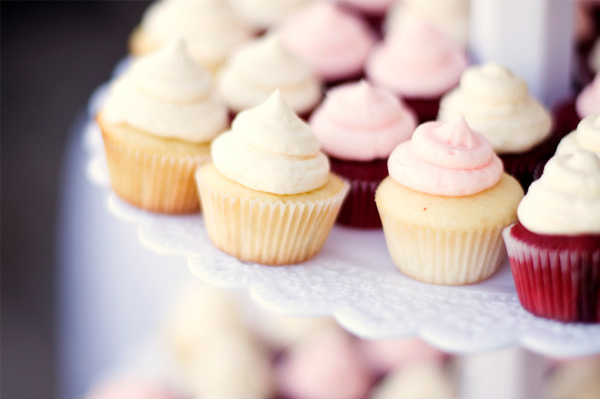 One-bite desserts
Whether you're talking bite-sized brownies or couture cupcakes, caterers have been fielding orders for quick and easy desserts. Many brides- and grooms-to-be are asking bakers to whip up their favourite recipes in pint-sized sizes (think Prince William's biscuit cake prepared in individual servings).
Everything edible
Who needs cutlery or plates when you can serve an appetizer on something that's edible? Imagine french fries wrapped in edible paper or pieces of sashimi wrapped in seaweed cones. Anything goes, so long as no dishes are left over for the wait staff to wash.
Lots of shots
We're not talking about the alcoholic variety here. Many brides and grooms have been requesting amuse bouche-esque mouthfuls (typically served in a shot glass) of their favourite soups. Wondering what else might fit into this category? Think puddings, hot chocolate and custards.
Fast-food trucks
Blame this trend on the gourmet goods you can find at some fast-food trucks in Los Angeles and New York. Essentially, around midnight, once everyone's worked up a bit of an appetite from dancing, a food truck pulls up outside the wedding venue to serve guests all sorts of foodie fun fare, including hot dogs, doughnuts, ice cream and mini burgers.
Better at home
If you're hoping for an elegant wedding that won't cost too much, this trend is for you. Wedding planners have seen a spike in the number of small, at-home affairs timed for brunch and lunch. Part of the appeal is lower costs: Nibblies and breakfast foods are much simpler and cheaper to prepare. It also has to do with intimacy: You can have fewer people at your event, which means you can spend more energy on things that really matter, such as quality food, decor, etc.
Tasting menus
Instead of signing up for a five-course meal with your caterer or hall, ask for several smaller courses packed with some of your favourite fare. Intersperse each course with a customized cocktail. This gives guests the opportunity to sample a variety of dishes and ups the element of edible surprise (what will guests get next: a pasta sampler or a charcuterie plate?).
Tell us

Fast-food truck at a wedding -- tacky or awesome?

Share your thoughts in the comments section below!
More recipes & food trends
Easy dinner party recipes
Homemade condiment recipes
All about herbs: A breakdown of Indian spices