Kitchen Helpers
Looking to deck out a new kitchen, celebrate a friend's housewarming or just get inspired to cook more? Check out these five great must-have gadgets to help you and save you time in the kitchen.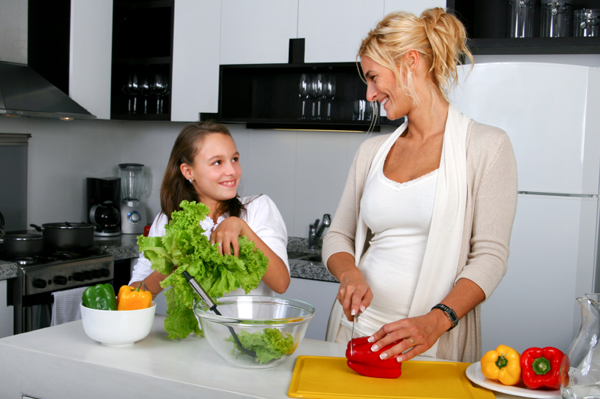 Salad spinner
This little guy will make your cooking life a whole lot easier. While at first you might shrug a salad spinner off as an indulgent extra for lazy folk, it's a great way to simplify the salad-making process and encourage you to ensure every meal your family is served is accompanied with a fresh side salad. This kitchen tool essentially rinses your greens and removes all excess water so you won't be tempted to dry your lettuce on dirty old tea towels -- or even worse, skip the wash altogether. These are usually made from plastic and contain an inner, removable strainer that sits inside an outer bowl. You can opt for buttons, strings or handles to get the strainer spinning. Just make sure you think about where you'll be able to store this bulky gadget if you're tight on kitchen space.
Kitchen timer
Sure you might rely on your mobile phone to do all your alarm setting for you, but there's certainly value in having a separate timer in the kitchen. Like when you want the hubby or kids to try their hand at cooking, for instance... While you can go always for the budget-friendly egg timer option, a digital, programmable timer might just change your life! This kind of timer will allow you to time a few different dishes at once to help you stay on track and stop you from forgetting about one pot boiling on the stove while you're checking on trays in the oven. We all know cooking a well-rounded meal for the family or friends usually involves a number of different dishes or courses, so the programmable timers are perfect to help take the stress out of entertaining. And if you get one small enough, you can even pop it in your pocket while you hang out the washing or take a break with a cuppa.
Cookbook holder
Invest in one of these and you'll wonder how you ever got on without it! If your cookbooks are all smeared with gravy splotches and beaten cake batter, a clear plastic cookbook holder might be a fantastic investment. Not only will it keep your documents and recipes clean, but it will also raise them so they're closer to eye level and you won't have to strain your neck to read each step. And when you're finished with it, you can simply wipe it off and pack it away.
Meat thermometer
Do you get panicky when you have to cook a big roast or meat-focused dish for a large group of guests? Freak out about cooking the Christmas turkey in March? Well a meat thermometer will take all of the guesswork out of these stressful cooking missions and will mean that you're alerted when your meat is cooked to perfection. Your stress levels and your satisfied guests will thank you for it!
Compost bucket with charcoal filter
What do you do with your food scraps? Throw them away or recycle them? Well a user-friendly compost bucket might be all you need to kick-start a more environmentally-friendly way of disposing of your fruit and veggie leftovers. Chuck all of your peels, cores, etc in these handy little gadgets and transfer outside to a larger compost bin or straight into your garden. While of course you can use any container as a small kitchen compost bin, if you invest in one with a charcoal filter it'll cut out the smell factor too; carbon filters are used to absorb odours and prevent those pesky bugs from flying around the kitchen. Try to find one with a handle to make your life even easier!
More help in the kitchen
Storage solutions for small spaces
Quick ways to update your kitchen for winter
Top 10 cookbooks for your kitchen