Guilt-Free Nibblies
Hosting a wine night this weekend? Try these healthy recipes to cut down on the fat and sugar intake while entertaining. From delicious dips to seafood to fresh spring rolls and san choy bow, the great combination of fresh vegies and herbs will impress your guests (and keep your waistline in check!).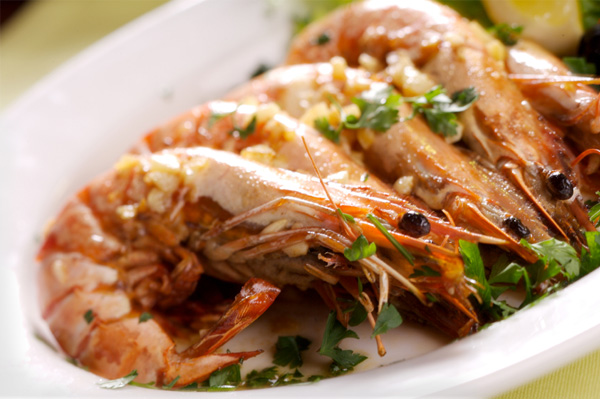 Sizzling garlic prawns
Ingredients:
2 handfuls of cooked prawns, peeled, deveined, heads removed and tails intact
2 garlic cloves, thinly sliced
The peel of 1/2 lemon, thinly sliced
1/2 teaspoon chilli flakes
2 tablespoons olive oil
Salt and pepper
Directions:
Place prawns, garlic, lemon peel, chilli flakes, olive oil and salt and pepper in a bowl and stir to combine.
Place cling wrap over the top of the bowl and place in the fridge for 30 minutes to marinate.
Heat oil in a pan over medium heat and lightly fry prawns while heating mixture.
Transfer to a serving platter and serve with serviettes.
Chilli cheese dip
Ingredients:
1 container of cream cheese
3 tablespoons sweet chilli sauce
1 tablespoon chives, finely chopped
Water crackers
Directions:
Mix the cream cheese, sweet chilli sauce and chives together in a bowl
Spoon into a dip bowl, sprinkle with some more chopped chives and serve with crackers.
Fresh vegetarian spring rolls
Makes 12
Ingredients:
12 rice paper sheets suitable for fresh spring rolls
2/3 cup of bean sprouts
5 carrots, grated
3 tablespoons of mint, finely chopped
1/2 cup shredded coconut
12 tablespoons satay sauce
4 tablespoons toasted sesame seeds
Directions:
Lay a rice paper sheet out flat on a clean surface.
On one edge, make a long pile of beansprouts, carrot, mint and coconut.
Spoon over one tablespoonful of the peanut satay sauce and sprinkle with sesame seeds. Fold the two sides of the rice paper in and roll up.
Serve on a platter with sweet chilli dipping sauce.
Option: To make a non-vegetarian version of these fresh spring rolls, simply add some poached chicken or tuna to the pile of vegies and herbs.
Chicken san choy bow
Makes 12
Ingredients:
Olive oil
600 grams minced chicken
1 large clove of garlic, crushed
1 tablespoon ginger, grated
1 can water chestnuts, chopped
1 cup frozen peas and corn kernels
3 tablespoons soy sauce
3 tablespoons oyster sauce
12 leaves of iceberg lettuce
Directions:
Heat the oil in a large pan or wok over medium heat.
Add the chicken, garlic and ginger and fry for a few minutes until the meat begins to cook.
Add the water chestnuts, peas and corn and let cook for a few more minutes.
Pour in the soy sauce and oyster sauce and fry until the meat is cooked through, stirring to combine.
Wash each lettuce cup thoroughly and pat dry. Place side by side on a large serving platter and spoon the chicken mixture into each one.
More healthy recipes
Healthy smoothie recipes
Recipes to boost your vitamin C intake
Tasty warming soups for winter