Naughty and nice fish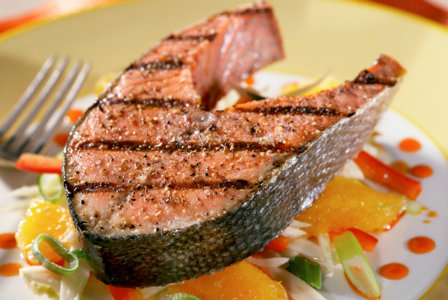 Australia is a seafood-loving country. From tossing a few prawns on the barbie to enjoying a salty, newspaper-wrapped pack of fish and chips on the beach, we love to eat the fruit of our seas. But are we loving it to death?
How to choose sustainable seafood
According to the Australian Marine Conservation Society, less than 1 per cent of Australia's marine environment is protected from fishing and mining. Many of our commercially-caught fish are being over-exploited, with more species becoming threatened every year.
On the flip side, leading health research bodies, such as the National Health and Medical Research Council (NHMRC), suggest that we should eat more fish. This is because fish is low in fat, high in protein and an excellent source of Omega-3 fatty acids. In fact, eating one or two serves of fish a week may help reduce the risk of diseases such as asthma, prostate cancer, heart diseases and diabetes.
But it is possible to balance a healthy diet with a sustainable environment. The key is in choosing the right amount of the right fish at the right time of year.
Buy what you need, eat what you buy
Seafood forms a significant part of the Australian diet -- around 18 kilograms of seafood per person every year is being consumed and our appetites are growing.
However, we also waste much of the food we eat. Research by the New South Wales Government shows that the average NSW household throws out $1,036 of food per annum. Australia-wide, almost 40 per cent of the average kerbside garbage bin is made up of food. This amounts to an approximate waste of $7.8 billion a year and not only is this waste costly, it also harms the environment through the production of excess greenhouse gases, methane and CO2.
Over-fishing is a by-product of consumer demand. However, you can do your part in reducing the impact of over-fishing by buying only what you need and asking your local fishmonger or supplier whether you are purchasing an over-fished species. This dialogue sends a direct message to suppliers that demand for sustainable seafood is growing which, in turn, helps drive change in the way fish and shellfish are caught or farmed.
Imported or local?
Knowing where your fish comes from is one of the key questions that will help you make an informed seafood choice.
Roughly 70 per cent of the seafood Australians eat is imported. While we all know the importance of buying locally where possible, avoiding imported seafood isn't always the most sustainable choice. In fact, locally-farmed seafood such as salmon, trout and tuna are on the "naughty" list this year due to sustainability issues.
If you think buying wild fish will solve all your problems, think again. A number of wild fish stocks such as shark (sold as flake), orange roughy and blue grenadier are seriously under threat from over-fishing. Many have long lifespans and take a while to breed so they are particularly vulnerable, while others are fished in such a way that harms other marine life and the environment.
Four seasons
Did you know fish have seasons, just like vegetables?
Some fish, like popular black bream, King George whiting and trevally are available all year round, while others such as Australian salmon peak in January and February. This is due to the timing of breeding and seasonal closures that are in place to protect and help revive depleted stocks.
If you want to choose sustainable seafood you need to think seasonally as well. For a comprehensive calendar, visit the Sydney Fish Market's seasonal calendar for more information.
What to buy
Thanks to a growing demand for sustainable seafood -- fish that is caught and farmed responsibly, at a level that allows stocks to maintain their populations without jeopardising the local ecosystem -- finding out what fish to buy has become a little easier.
Sustainable seafood can be wild caught or farmed in aquaculture. For wild caught fish, sustainable seafood is generally sourced from fast-growing, highly-productive species that are caught by methods which don't damage ocean habitats or catch large volumes of non-target species. Sustainable farmed seafood is usually grown in small, closed aquaculture systems that neither destroy coastal habitats or depend on wild caught fisheries as feed.
As a quick guide, below are the Australian Marine Conservation Society's "naughty" and "nice" seafood lists. If you want some help while you're out and about, you can also download the AMC's sustainable seafood app to make choosing the right fish even easier.
Naughty fish -- try to avoid these species
Atlantic salmon (farmed)
Blue grenadier/hoki (wild)
Blue warehou/black trevally (wild)
Cods and gropers (wild)
Garfish (wild)
Gemfish (wild)
Hake (wild)
Jackass morwong (wild)
Orange roughy (wild)
Oreodory (wild)
Prawn (imported/farmed)
Scallop (wild)
Shark (wild)
Snapper (wild)
Striped marlin (wild)
Swordfish (wild)
Trout (farmed)
Tuna (wild)
West Australian dhufish (wild)
Yellowtail kingfish (wild)
Nice fish -- eat as much as you need
Abalone (farmed)
Australian bonito (wild)
Australian herring (wild)
Australian salmon (wild)
Blue mussel (farmed)
Blue swimmer crab (wild)
Bream (wild)
Eel (wild)
King George whiting (wild)
Leatherjacket (wild)
Luderick (wild)
Mackerel (wild)
Mackerel icefish (wild)
Mahi mahi (wild)
Moonfish (Wild)
Mud crab (wild)
Mullet (wild)
Oyster (farmed)
Salmon (canned -- imported)
Sardine (canned -- imported)
Scallop (farmed)
Squid, calamari, cuttlefish, octopus (wild)
Tailor (wild)
Threadfin (wild)
Trevally (wild)
Whiting (wild)
More from the sea
Is krill oil right for you?
Fish: Food for your brain
How to tell if your seafood is fresh