Avoid Cravings With Smart, Tasty Snacks
Appropriate snacks can help maintain weight and curb cravings. Keep healthy snacks stocked so you'll make smarter choices.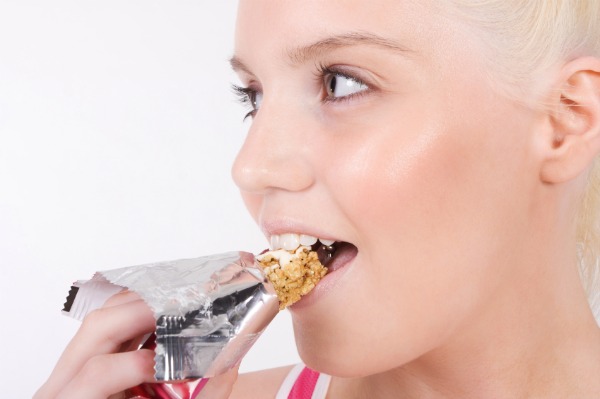 Contrary to popular belief, snacking can be helpful in maintaining your weight and healthy eating habits. Snacking helps keep cravings down and prevents excess hunger that often leads to overeating at meals. Making your between-meals eating nutritious and enjoyable adds pleasure to life and will aid you in maintaining a healthier lifestyle. It's OK to snack, but snack smart!
Watch your snack portions. Snacks aren't intended to "fill you up" but rather to help you be "not hungry" between regular meals. Skip the urge to nibble if you're not hungry — learn to recognise the difference between snacking to satisfy hunger and snacking due to boredom, frustration and stress. Don't mix your snacking with other activities like watching television or studying. Absent minded snacking leads to extra calories! Keep a variety of smart snacks ready and easily available so that you'll make better choices.
Office snacks
Unscheduled meetings and office deadlines may cause you to skip lunch, so be prepared. Smart snacks to stock for your office include instant soups, pretzels with mustard for dipping, whole grain cereals that you can munch on right out of the box, mini-cans of water-packed tuna, instant oatmeal, dried fruit and whole wheat crackers.
Also great to have at the ready: vegetable juice, fresh fruit like apples, oranges or small bananas, air-popped popcorn, low-fat granola bars, peanut butter to spread on graham crackers and rice cakes.
Refrigerated snacks
Stock your refrigerator with satisfying snacks that you can grab on the go. Low-fat dairy is an excellent choice: yoghurt, cottage cheese, milk and flavoured soy milk. Fresh fruits and vegetables are easy if you clean and prepare them ahead of time. Carrot and celery sticks, apple slices, cherry tomatoes and spears of red, green and yellow pepper, cubes of cucumber and broccoli trees to dip in low-fat dressing are all appropriate and tasty snacks. For something sweet, reduced-calorie pudding cups satisfy cravings, as do frozen yoghurt and fruit bars, sugar-free Jello and whole fruit sorbet.
It's mid-afternoon and you feel drained? Get your energy back with a snack boost from a flour tortilla spread with fat-free refried beans and a dollop of salsa, low-fat hummus with pita wedges to dip, celery stuffed with cream cheese, peanut butter or reduced-calorie bean dip. Cinnamon bagel chips go great with 1/2 cup of cottage cheese or a small container of spiced applesauce. A handful of nuts and raisins will often be just what you need — salty and sweet, and packed with nutrients. Enjoy some icy cantaloupe wedges plain or with a topping of yoghurt. Mix up a smoothie with ice and fresh berries for something cool and refreshing.
Make small, wisely-chosen snacks between meals a regular component of your healthy eating plan.
More about healthy eating
Healthy food choices for every meal
Easy, healthy lunch ideas for work
The benefits of superfoods