No Gym? No Problem! Simple Home Workouts
Save time and money working out at home: Here are some tips to get the burn on right in your own space!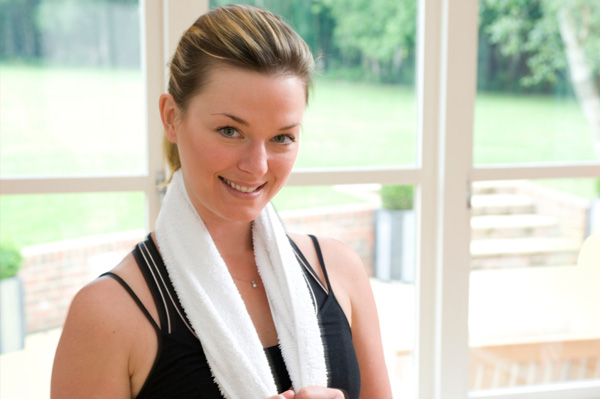 Getting daily exercise is important, but not everyone can afford a gym membership or the workout equipment it would be so convenient to have in their home. You can still get an effective workout and may even be more likely to keep up with the program if you can easily do it right where you live! Get motivated and start working out at home.
When you work out at home, it's easy to get distracted by chores and favourite television shows, so why not weave them right into your fitness routine? Lifting weights several times a week is a great way to burn off calories and boost your metabolism. Get the most out of your TV time by doing your reps while you watch. Instead of snacking while viewing a favourite program, do some lunges, squats, crunches and tricep-dips.
Use what's available
Have stairs? Then you don't need the Stairmaster or an aerobics class to get the cardio benefits! Stand below the bottom stair and walk in place for one minute to get your legs warmed up. Step up one step, and then step back down. Repeat this one-step move 10 times and then walk in place for 15 seconds. Next, walk up and back down two steps, repeating 10 times. Add the same routine again, using the first three steps. Continue the pattern for 10 stair steps and you'll definitely be feeling the burn! If you feel dizzy or winded, start slow and build your endurance over several weeks.
Work out thighs and gluteus muscles using your couch. Face the couch near one arm and bend forward, supporting your weight using the furniture arm. Keep your head down to avoid stress on the neck muscles. Kick your left leg back until the bottom of your foot is parallel to the ceiling, then bring it back down to starting position. If you are doing this correctly you will feel the movement in your thigh and butt. Do 15 repetitions with your left leg before switching and doing 15 repetitions with your right leg. You'll see the "uplifting" results of this exercise in just a couple of weeks!
No equipment
You don't need home gym equipment to do jumping jacks, push ups, leg lifts or crunches. Jog in place or do squats, or get in some weight lifting using a can of vegetables as your initial weight. Dancing is a wonderful exercise and great for the heart. Turn on your favourite music and bust some moves! Borrow the kids' jump rope and jump for five minutes, then rest and repeat.
If you need more guidance or structure in your home workouts, buy a DVD and follow along -- yoga, Zumba, areobics, Pilates or whatever program appeals to you. The important thing is to be consistent in getting your daily exercise.
More about fitness
Make working out fun
4 Cool new fitness trends: New ways to exercise
Mental effects of exercise