Why It Pays
To Write It Out
Whether you want to record special milestones in your life or just clear the mental clutter, journaling is an effective way to download all of your thoughts and ideas in one place. Journaling is also a proven stress management tool, with the added bonus of creating a permanent record of a slice of time in your own personal history.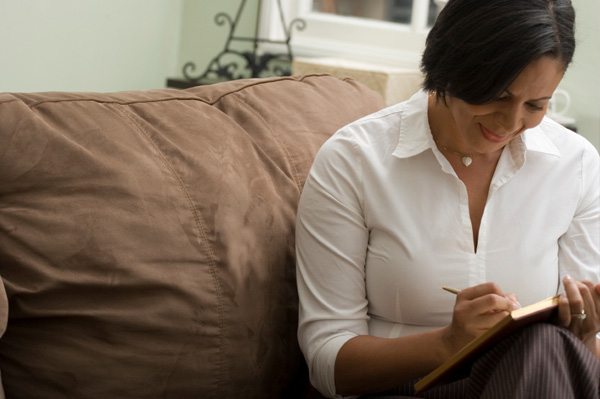 We all know the health benefits of engaging in physical activities, such as taking a yoga class or going for a run. But did you know that chronicling your thoughts and feelings is just as good for your health as exercise?
Benefits of journaling
It doesn't matter whether you choose to journal by tapping away on your computer or putting pen to paper in the traditional sense – either way, the fact is, journaling is good for your mental health.
Scientifically speaking, research has shown that those who keep a journal can actually improve cognitive functioning and counteract many of the negative effects of stress. But just as importantly, journaling and writing down your thoughts "allows you to form a deeper relationship and understanding with yourself," says Lynne Kooij, creator of the "Journeys by Lynne Kooij" series of journals and planners.
"There is no right or wrong way to journal; it is all about finding the creativity within, and writing your feelings and emotions on paper," she says. "Each journal becomes a precious keepsake."
What to write about
Lynne began journal-writing herself 15 years ago when she became pregnant with her son, Alexander. She went on to draw inspiration from her own experiences to create a beautifully designed collection of journals, initially aimed at new parents to help them "record life's most poignant and precious moments."
She says her motivation for creating the books was to help new mums and dads record – and later reminisce over – the different baby milestones that quickly pass by. Lynne has since expanded into celebration and wedding journals.
"By journaling, as you journey through life's precious moments – from the anticipation of a wedding, to the expectations of becoming a mother – you will be able to detail your most intimate thoughts, feelings and expressions," she adds.
"The pace of planning and organising these days can keep you so busy that it is easy to miss milestones and memories shared by those around you. But sometimes, what seem like the little happenings can mean so much when we reflect."
Even if you don't have a major life event on the horizon, like a new baby or a wedding, journaling can still provide many benefits. The practice of keeping a daily diary or journal for the sole purpose of exploring your thoughts and feelings allows you to clarify your values, goals and ambitions thereby gaining valuable self-knowledge.
Furthermore, journaling is also a good problem-solving tool. Hashing out a "pros" and "cons" list has been popular strategy for making decisions (big and small) since the dawn of time, as the act of simply writing down your options helps you see the situation more clearly. By keeping a journal and making the time to write in it regularly, you give yourself the valuable opportunity to sort through your issues, clarify your ambitions and make good decisions.
MORE HEALTH & wellness
Mental effects of exercise
Tips for coping with depression
How to recognise and correct negative thinking