Dental Gadgets
Getting your kids to brush their teeth can sometimes be a massive mission. From lies to full-blown bathroom tantrums, there's something about this task that most kids just seem to hate. But never fear, we've got some great dental care gadgets that will turn things around and have your kids begging for teeth time!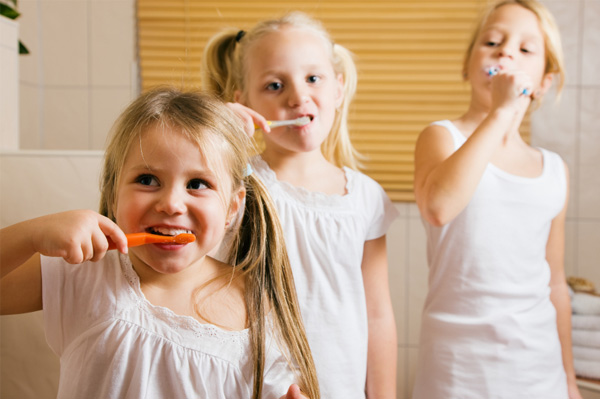 Trendy toothbrush
Forget boring old plain-coloured toothbrushes. Get your child excited about teeth-brushing time by letting them pick one of the many colourful and creative toothbrushes on offer in supermarkets today! From bright fluoro colours to pictures of their favourite cartoon characters to brushes that sing cute tunes (signalling when you've brushed for long enough), there are so many different options on the market, your child is sure to find one they love. Older children might also love electric toothbrushes and get excited by the movement and whirring sound.
Teeth-brushing timer
If you have your doubts that your kids are brushing their teeth for long enough, a trusty teeth-brushing timer may just do the trick. Save yourself the hassle of standing over them and instead encourage them to follow the timer as their guide. There are many different options to choose from -- ranging from humble kitchen timer gadgets to hourglass-style timers and quirky ones that attach to your bathroom mirror. Cute and practical!
Toothbrush holder
A quirky toothbrush holder will also help your child to get more excited about brushing their teeth. Once again, encourage your son or daughter to choose their own and explain how their own toothbrush and toothbrush holder is a positive milestone that now means they're growing up! Many different styles are available, from cartoon character holders to rubber animals, cup versions and even plastic teeth moulds.
Flavoured floss
It's wise to get your children into the habit of using floss to help give their mouths that little bit of an extra clean. Choose floss products that will appeal to your kids, like yummy flavoured floss or one with easy-to-hold handles that glow in the dark. Older kids will also love using electric flossers.
Fun toothpaste
Let your children choose their own toothpaste so they can opt for a taste and type that they love. Toothpaste tubes come with all sorts of quirky packaging and with many fun toothpaste flavours and colours, from striped to coloured to sparkly!
Cool cup
Buying your child their own cup for the bathroom will get them into the habit of rinsing their mouths properly after brushing. For boys, a fun plastic cup featuring their favourite characters could be the ticket, while girls might love cups full of glittery liquid that swoosh about as they lift it up to drink.
more help with kids
Get your kids to eat vegetables
How-to: Teach your kids to wash their hands the right way
Childhood obesity: Help your kids